Family of tragic cyclist gearing up for the return of Pedal on Parliament
Parents of Andrew McNicoll, killed while cycling in Edinburgh last year, pledge their support for 2013's Pedal on Parliament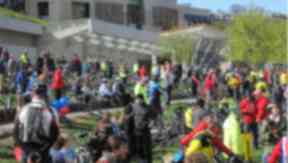 This time last year, Lynne and Ian McNicoll were trying to come to terms with tragic news that changed their lives.
Andrew was just 43-years-old when he was killed in an accident with a lorry while riding his bike on Lanark Road in the west of the capital.
Remarkably, his family dealt with the healing process by thinking of others.
"Losing Andrew made us realise that we couldn't let another family face this kind of pain," said his step-mother Lynne.
"The only way for myself and his dad Ian to move forward with the healing process is do something to make cycling safer."
The couple started a cycling safety charity and took to their bikes for Scotland's biggest ever cycling demonstration.
Alongside round-the-world cyclist Mark Beaumont, the couple were at the very front of the 3,000-strong crowd of cyclists who rode through Edinburgh in April to call for safer roads for all.
Professional fundraiser Lynne hadn't cycled a bike for years - due to her fear of being knocked off - but faced her fear with dignity and determination for a cause she firmly believes in.
Organisers of Pedal on Parliament today announced the protest will take place on 18 May, and the McNicolls have pledged their support:
"Ian and I remain committed to working with others to make cycling in Scotland safer for all abilities and we strongly support the aims of the Pedal on Parliament team and will work with them to help achieve their aims," said Lynne.
"We are delighted to support Pedal on Parliament Scotland 2013. The turnout at POP in 2012 was incredible and we hope that the turnout at this year's event will be even higher. We will be there."
Starting at the Meadows and ending at the Scottish Parliament building, the organisers will deliver an an eight-point manifesto they believe will help make Scotland's towns, cities and villages fit for cyclists of all ages.
The group said in a statement:
"The Scottish Government has a target of 10 per cent of all journeys to be taken by bike by 2020, yet despite some high profile announcements of investment in cycling in the wake of the last Pedal on Parliament, it still spends barely 1 per cent of the transport budget on cycling."
Dr David Brennan, one of the organisers, added: "After the first Pedal on Parliament last year, Alex Salmond said we were 'pushing on an open door.'
"Although they have listened to our arguments we're still not seeing any real change, as the recent budget announcements have shown.
"Spending for cycling has stopped falling, but it's nowhere near the levels we need to make the roads safe for my young family to cycle on – and that's the sort of change we need to see."