Men who stole £1m of jewellery in armed raid may have escaped in taxi
The men threatened staff at Rox on Edinburgh's George Street with an axe and gun during the raid.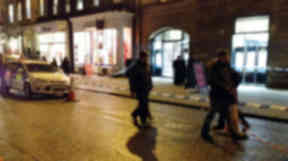 Two armed men who used an axe and firearm to steal £1m of jewellery from a luxury retailer may have escaped in a taxi.
The men raided the capital's branch of Rox in the Assembly Rooms on George Street, Edinburgh at 5.15pm on Tuesday January 15 before escaping on a Honda 650 motorcycle.
The motorbike was found abandoned in a nearby street and police now believe the robbers may have then taken a taxi. They want to speak to cab drivers who were in the area at the time.
Two women were working in the front of the shop when the masked men walked in and started smashing the display cases with an axe while brandishing a dark-coloured gun at staff. One of the shop assistants was forced to open the window display.
They stuffed large quantities of jewellery into rucksacks before running out the shop and escaping on a motorbike. The bike and axe were later found on Northumberland Street North West Lane.
Since then, Rox have invested £50,000 in additional security at the store, including a full-time security guard and locked door policy.
On Tuesday, Lothian and Borders Police are revisiting the scene in the hope they can speak to people who saw something. There will also be high visibility patrols in the area.
A command centre will be set up in Howe Street, on the corner of Northumberland Street, for witnesses to come forward.
Detective Chief Inspector Bobby Deas said: "We are revisiting the scene in order to speak to those people who may have been in the area at the time, and who may have information that can assist our enquiries.
"Officers will be in the area from mid-afternoon into the early evening, and I would encourage anyone who lives or works in the area, who thinks they have any information, however small or insignificant it may seem, to speak to officers.
"At present we have a large team of detective officers dedicated to this enquiry, and as part of our ongoing work we have been carrying out extensive CCTV enquiries, along with forensic analysis.
"We have had an excellent response from the public following our appeals for information, and I am hoping that today's activity will result in more people coming forward.
"Our enquiries have suggested the culprits may have got into a taxi after abandoning the motorcycle, and we want to speak to any taxi driver who was working in the area around 5.30pm, who thinks they may have picked up the pair in the New Town area, near to Northumberland Street.
"Likewise anyone who saw two men in possession of rucksacks or bags in the Northumberland Street area is also asked to get in touch."
Rox have since added extra security at the store, saying "the safety and well-being of our staff is our utmost priority".
A spokesperson for the company said: "Following the armed robbery that took place last week, we are investing £50,000 in additional security for our Edinburgh store to deter burglars and give staff, who are still badly shaken, extra peace of mind.
"We are now operating a lock door policy at all times and have employed a full time security guard; we have also installed a smoke cloud system as a deterrent.
"This is a highly sophisticated system that when activated, releases a heavy fog which fills the room and reduces visibility. Smoke cloud systems have been used to great success by other luxury jewellers across the UK who have previously been targeted in smash and grabs and we are prepared to do whatever it takes to ensure the safety and well-being of our team."
The axe-wielding thief was wearing a dark-coloured top and jogging bottoms with a stripe down the sleeve and leg. The other man was wearing a dark top and dark jogging type trousers. One thief wore a red helmet and the other wore a white helmet.
Witnesses describe one of the men as speaking with an English accent, while the other had a local accent.
Anyone with any information is asked to contact Lothian and Borders Police immediately on 0131 311 3131 or Crimestoppers in complete confidence on 0800 555 111.