Four bikes stolen in Edinburgh every day: see the crime hotspots
Edinburgh's worst area for bike crime is the Southside and Newington ward, according to new police figures.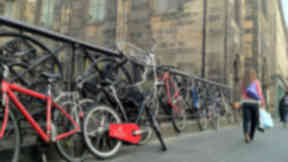 It's the gift that was top of many a child's Santa list - a brand new bike.
Inspired perhaps by the likes of Edinburgh's Olympic hero Sir Chris Hoy and Tour de France winner Sir Bradley Wiggins, thousands will be cycling their way into this New Year.
But in their excitement how many will end up victims of crime?
According to the latest statistics, the risk may be greater than you'd expect.
An investigation by STV Local reveals the areas most at risk of bike crime, based on police reports provided under freedom of information legislation.
Just one in ten stolen bikes are ever recovered and returned to their owners, according to the figures.
In other words, no-one is punished for 90 per cent of bike crimes in Edinburgh.
Across the city as a whole, thefts were down from 1585 in 2011 to 1534 last year. The fall of 51 isn't huge, but reflects the fact cycle thefts are falling in most council wards.
The most stolen bikes were recorded in the Southside and Newington area: 254 in 2012.
The table below lists the number of thefts reported to police in 2012.
Since 2010 local cycle campaign Spokes has been running a project to help tenement dwellers secure their bikes safely. But the group believes more can be done so is promoting ways residents can take action.
Spokes member Ian Maxwell is also on the board of The Bike Station, based in Causewayside.
He said: "While it is encouraging that the significant increase in numbers of cyclists in Edinburgh isn't bringing about a similar increase in thefts, it is still a real problem.
"The Bike Station hears from a lot of people who have just had their bike stolen and are wanting a cheap replacement so that they can keep on cycling.
"There are some simple ways to reduce the risk. Always lock your bike, even if you are leaving it for a very short while, and use a reasonable quality of lock.
"If you have to leave a good bike locked out in the open regularly because of a lack of secure parking, consider ways to make it look less attractive such as paint, stickers or masking tape.
"Cyclists living in tenements or terraced houses without easy access to bring the bike indoors have particular problems, and Spokes is pressing the council to make it easier for people to use front garden storage or secure public cycle parking."
A guide to locking bikes as safely as possible can be found on The Bike Station website.
The local police force says it has helped more than 1000 people to have their bikes security marked for free.
A Lothian and Borders Police spokesperson said: "In the past year we have run a number of different initiatives aiming to improve bike security in Edinburgh, with a variety of crime prevention methods promoted to stop cyclists being targeted by thieves.
"So far there were 53 bike marking events with a total of 1052 bikes security marked free of charge in the city.
"We encourage people to make sure their bikes are always secured properly when being left, and that they are marked so they can be reunited with owners should their bike be stolen."
The map below shows how many bikes have been reported stolen over the past four years. It also details how many bikes the police have recovered. Click each green bike icon to find out more.

View Edinburgh bike thefts 2009-2011 in a larger map