Chipper pensioner can't believe it's not batter
A woman who was unable to eat fish and chips for 50 years because of a food allergy is enjoying the delicacy once more.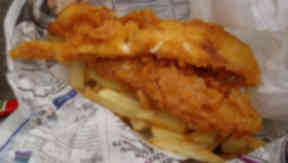 A pensioner is tucking in to fish suppers for the first time in half a century after her local chippie introduced a special gluten-free batter.
Kathy Kennedy, 71, has been unable to enjoy the traditional carry-out since discovering she was allergic to gluten in childhood. She was later diagnosed with Celiac disease.
Her condition meant she has had to spend her life avoiding foods containing wheat, barley, oats and rye, ruling out a range of delicacies from batter to birthday cakes.
But after being tipped off by a neighbour that her local chippie, The Tower, in Penicuik, Midlothian, had produced a gluten-free batter, she has been making up for lost time.
She said: 'I've never seen it before and I couldn't wait to try fish and chips again. They are great - big and chunky and not greasy at all.
'It's been fantastic to try it all again and so tasty compared to some of the supermarket gluten free products that they have on offer.'
Mrs Kennedy spent years in hospital during the war because of her condition, which was undiagnosed at the time, while rationing hit her particularly hard as she was unable to eat bread.
'I feel sorry for children who will never be able to taste the food that I've tried - it's a very complicated diet and it's very difficult to sustain. You have to read the labels on everything,' she said.
The Tower uses Glu-2-Go batter for its wheat and gluten free products, which has been created by an award winning fish and chip shop in Polmont, near Falkirk.
Domenico Pia, owner of The Tower, said the idea to offer gluten-free batter came to him after talking to friends and family members who have Celiac disease.
He said: 'We have gluten-free customers who have not been able to eat fish and chips for many years and they really sing our praises for putting it on the menu. Many say they can't even tell the difference between the gluten free and the normal batter.'