Archaeologists to start work on practice trenches in Edinburgh
The trenches in Dreghorn woods, near the barracks in Edinburgh, were used to prepare soldiers for battle.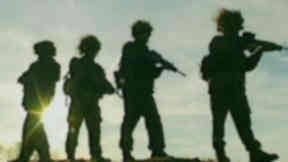 Archaeologists are to start work in a network of trenches built in Edinburgh almost 100 years ago.
The trenches in Dreghorn woods, near the barracks, were used to prepare young soldiers for fighting in the First World War. Since then they have been abandoned and are slowly disappearing under mulch and mud.
The City of Edinburgh Council have provided £3500 to carry out a survey of the area to find out what state the trenches are in.
Specialists from the University of Glasgow's Centre for Battlefield Archaeology will chart the route and condition of the trenches so they can recommend how to preserve them in the future.
Starting on Friday, the work is expected to take four days and a report will be handed to DIO in March.
Dr Tony Pollard said: "The Centre for Battlefield Archaeology is delighted to be involved in this project. We have done a lot of work on trenches on the western Front in Belgium and France but this will be our first involvement with domestic practice trenches.
"For us this provides an exciting opportunity to gain a more rounded picture of the complex nature of trench warfare and the fact that this is a community project makes it all the more rewarding."