Pensioners and disabled people will travel on Edinburgh trams for free
The council said they will do everything they can to make sure the scheme is extended to the transport system.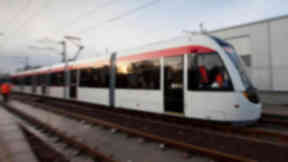 Pensioners and disabled people will be able to travel on the Edinburgh trams for free.
The City of Edinburgh Council has agreed to look at ways of extending the National Entitlement Card to the transport system once it opens.
It was initially unclear whether or not the passes would be allowed on the trams.
But the council said they have spoken to Transport Scotland, who run the scheme, and will do what they can to make sure they can be used.
Cllr Lesley Hinds said: "We are determined that Edinburgh residents who are eligible for free travel across the country should be able to use the tram on the same basis and we're now working with Transport Scotland to explore ways in which Edinburgh Council can support such a local scheme.
"The tram needs to be wholly integrated into the national transport network and, for me, this means that over 60s and people with disabilities should have free use of the service.
"We'll now start looking at the practicalities of funding this whilst operating within the national card scheme and we'll work closely with Transport Scotland to achieve this."
Transport minister Keith Brown said: "Securing the future of the national concessionary bus scheme was a key commitment for the Scottish Government and I am pleased that, following our discussions, Edinburgh City Council has agreed that it will look at ways of funding any local concessionary scheme for the trams.
"This is good news for local residents in Edinburgh and the aim is that this scheme will help promote integration between the tram and local bus services in the city.
"Importantly, concessionary passengers will continue to be able to travel for free on buses just as they do now."