Terence Stamp's Scottish love and a new favourite song
The star of movies like Superman, Star Wars and Wanted plays a grumpy pensioner in latest film, Song for Marion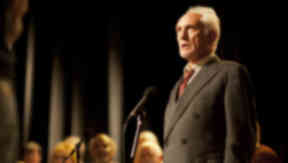 Actor Terence Stamp has had an enviable life. Playing the baddie in the original Superman movies, going on dates with some of the world's most beautiful women and sharing a house with Michael Caine are just some of his boasts to date.
The 74-year-old is currently promoting his new movie Song For Marion, which also stars Oscar winner Vanessa Redgrave, Bond girl Gemma Arterton and Dr Who's Christopher Eccleston.
Fresh from the sun of California, Stamp was feeling the cold as he met the media in a luxury hotel in Edinburgh, despite the swathes of cashmere tartan wrapped around his neck.
"I first came here with the great Michael Caine," said the quietly spoken actor. "We played the King's Theatre in a play called The Long and the Short and the Tall.
"We couldn't afford to stay in places like this. We were staying in digs and bed and breakfasts."
Stamp later appeared in another play in the city with Pamela Brown, Brenda Bruce and Michael Gough. He became friends with the McEwen family, notably the artist Rory, through Jean Shrimpton - the 1960s icon who is regarded as one of the world's first supermodels and was a former girlfriend of the actor.
"They gave me this scarf many, many years ago," he said.
"I used to come and stay with them in a place called Greenlaw. I used to get off the train at Berwick upon Tweed and we used to sometimes drive into Edinburgh for a treat.
"I haven't been up here for a while. I had forgotten. But when the train left Newcastle to come up here today and we hit the stark beauty of the coast, I remembered why I loved coming up here so much.
"All my memories of the McEwen's were wonderful and that is Scotland for me. They were the first Scottish aristocrats that I met. I have been around a lot of Scotland but Edinburgh is the place I know best."
Song for Marion is the heart-warming love story of grumpy pensioner Arthur (Stamp) and his cheerful wife Marion, played by Redgrave.
Marion spends her time with the local choir and its enthusiastic director Elizabeth (Arterton), much to the annoyance of Arthur. When Marion falls ill, Arthur becomes close with Elizabeth and the choir as he tries to rebuild his relationship with his estranged son James (Eccleston).
Stamp said: "The kind of actor that I am, every part I do I try to reveal more and more of myself. Ultimately I am always looking to tether my work to the best of myself. In this instance, I was able to use my Dad as a role model. He was very, very similar to the character I played.
"My Mum and Dad were a kind of twin soul relationship. They were an ordinary working class couple, they were never unfaithful, they never desired anybody else.
"In the script I realised the great beauty of this relationship was that they were ordinary. Normally, this 'twin-soul' relationship is symbolised by young beautiful people like Romeo and Juliet. It is never 'Tom and Ethel'.
"My dad was unusually good looking. He was cantankerous, stoical, and only really at ease when he had a few drinks in the pub with his mates. He was incredibly like Arthur. I didn't have to do any research at all."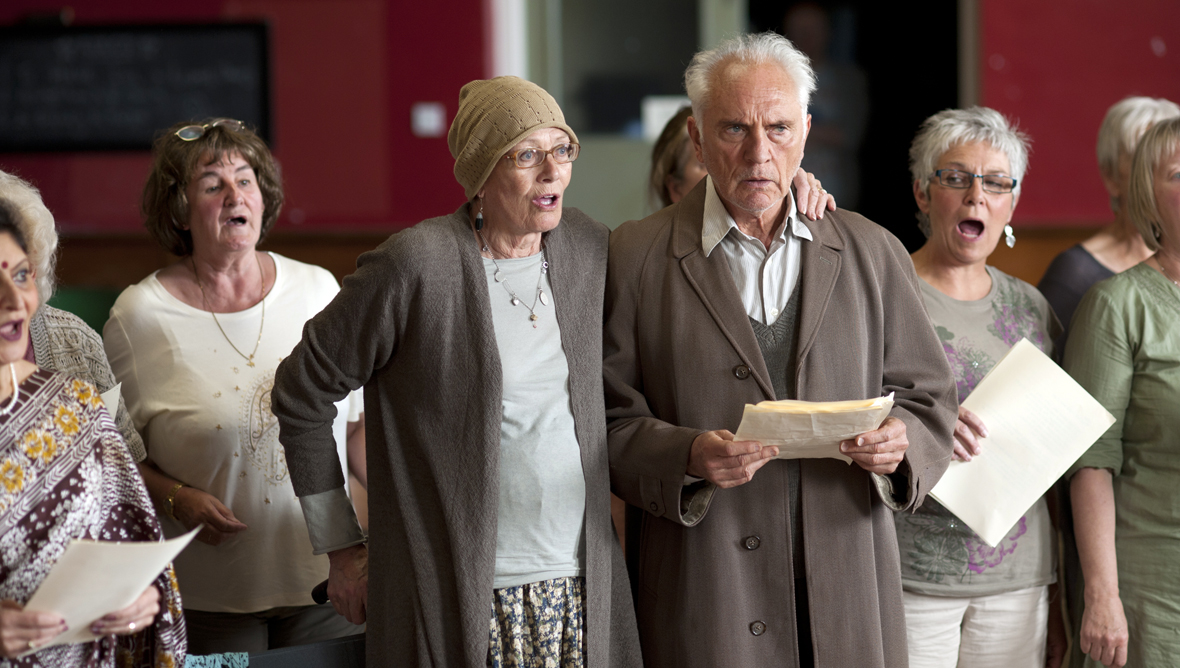 Terence Stamp in Song for Marion with co-star Vanessa Redgrave
Throughout his 50-year career - which started with an Oscar nomination for his performance in the title role of the 1962 movie Billy Budd - Stamp has been inspired by the work of Hollywood greats like Gary Cooper, Marlon Brando and Sir Laurence Olivier.
He feels playing Arthur has been one of his highlights, describing the atmosphere created on set by the actors and crew, led by writer and director Paul Andrew Williams, as "perfect".
"I became an actor after I was inspired by people who moved me, who moved audiences," added Stamp.
"Throughout my whole career, I have always hoped to give the very best of myself. What happened with this movie was that really happened. There was an ease that I felt.
"People seem to empathise with the movie. It is about death, about loss, and also really humorous. Everybody can understand. Everybody has had some kind of death close to them. There is a common experience."
Song for Marion is the latest chapter in a career which has made Stamp a familiar face to movie fans around the world.
Performances in Wanted with James McAvoy and Angelina Jolie, Valkyrie with Tom Cruise, and Steven Soderbergh's The Limey are in a portfolio of over 60 films.
He also appeared in George Lucas' Star Wars: Episode I - The Phantom Menace as Chancellor Valorum. To many though, he is best known for playing General Zod in the original Superman movies.
"I don't know much about Star Wars. I did a couple of days and I wasn't that impressed with Lucas. But I loved the Superman movies," he explained.
"I would highly recommend the directors cut of Superman II. It is all the stuff with Brando, it took Dick Donner (director) 15 years to retrieve all the footage and stick it back together."
Suddenly, leaning forward and speaking with an evil whisper Zod himself would have been proud of, Stamp adds: "If anybody out there who wants to really kneel before Zod, Director's Cut - Superman II."
Once the cloud of Superman's enemy had lifted from the hotel room, Stamp jovially talks about working on the movie with his idol Brando.
"It was like a dream come true," he said.
"In the modern era, he totally altered the angle of filming and film acting.
"We always got on very well. I understand how people think he was difficult. He was funny - 99% of it is was his way of getting a laugh, seeing how people respond. Even though we only did a day together, that was one of the great experiences and highlights of my career."
So will Scottish fans of Stamp see him north of the border again in the near future? It seems so.
"I did a Q and A on Thursday night at the Cameo cinema," he said.
"A lot of the women there said 'when are you coming back, come back soon, come back for the festival'.
"I have a friend who is bringing up a troop of boy actors and I thought 'Yeah, I could come up and see them and hang out a bit. Just chill."
Song for Marion is in cinemas on February 22nd.