On Dublin Street: The normal city road behind an erotic novel
What is life really like on the Edinburgh street which is the setting for new 50 Shades style story?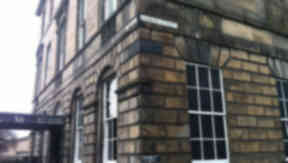 If you find yourself alone this Valentine's Day and are a little down about it, one thing you could do is embrace the world of erotic novels.
Reading about the sex lives of others may, after all, make you feel better.
Then again, it may not. One thing for sure is that the world of erotic fiction is currently a trend that thousands of Scots are enjoying.
With Kindles and similar devices becoming the norm, people can now read what they want safe in the knowledge that others sitting around them have no idea.
E.L James' erotic tale 50 Shades of Grey is a worldwide literary phenomenon the like of which has not been seen since Harry Potter and Hogwarts.
The story of the intimidating Christian Grey and his dominant relationship over his lover Ana started life as Twilight fan fiction before it was picked up by a publisher. Since then, it has sold more than sixty million copies worldwide.
Several authors have released novels in the style of 50 Shades in the past few months, including Sylvia Day and Beth Kery.
On Dublin Street, one of the most successful titles to come out, is set in this very city.
Author Samantha Young studied in Edinburgh and her novel follows American twenty-something Joss Butler as she struggles with demons from her past.
Joss moved to Dublin Street and meets her very own Christian Grey in the form of the handsome and successful Braden Carmichael, a man who gets what he wants and knows how to get it.
Sex and drama ensues.
The characters spend time flitting between real and fictional Edinburgh worlds, stopping for drinks in fictional bars and following it up with trips to landmarks like the Meadows, Edinburgh Castle and well loved shops including Harvey Nichols. The author chose the title for her book after spending a lot of time in the New Town during her student years.
The story was self-published last year and was named in the Top 30 New York Times' bestsellers in November. Penguin Books released a paperback version earlier this year and the novel currently sits in the top ten adult fiction books being sold on Amazon.
But what are the people who live and work in Dublin Street actually like? What do they think about their street becoming the latest hotspot for erotic literature?
Dublin Street, like many other places in Edinburgh, is currently disrupted by tram works. It is a quiet, residential area with boutiques, solicitor firms, restaurants and a gay bar breaking up the Georgian-style homes.
At Steven Boles Hair Design, 62-year-old Eleanor Bateman is having her hair cut by Trish Bachelor, 60.
"I have heard about the book," said Trish, who lives in Corstorphine.
"It is intriguing as there are lots of different people live in this area, arty people. You get nice New Town people with their children."
After hearing a description of Braden, the sex symbol of the book, she laughs: "I have never seen one of them going around here."
Eleanor is from the Roseburn area and travels down to Dublin Street for her hair appointments.
She added: "In days gone by this area was very elite. I probably will read it. I quite like it on TV, or in books, when they are talking about local places that you know.
"I have read 50 Shades but I haven't seen any Christian Grey type figures walking around here. But then I'm not looking for one."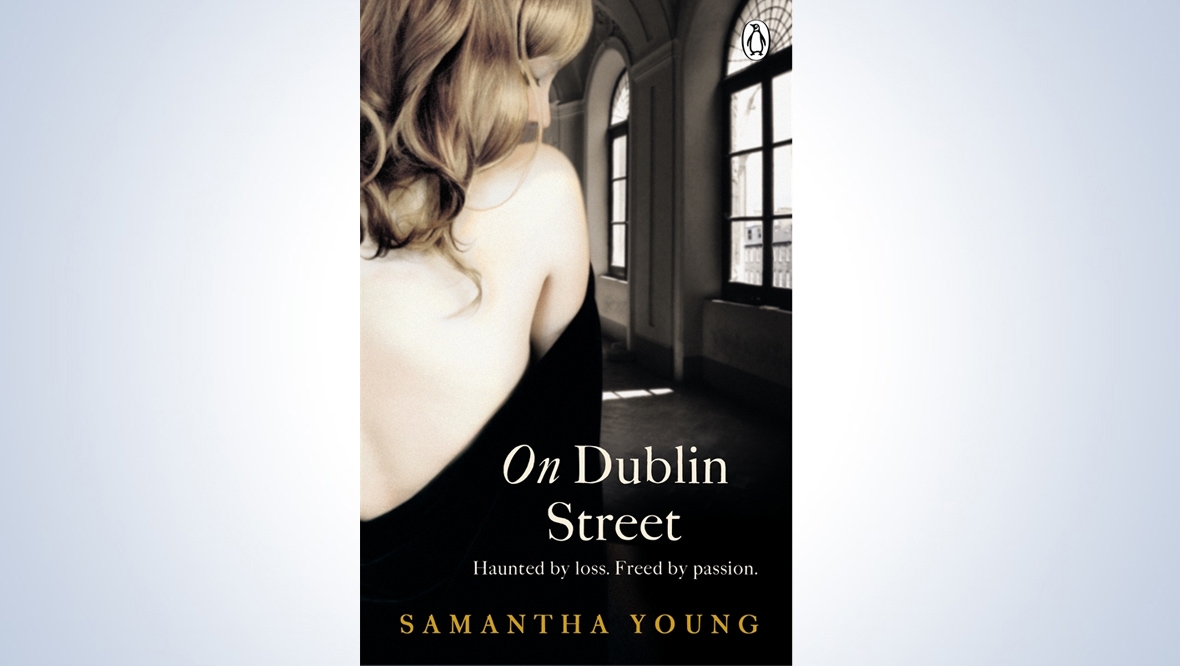 On Dublin Street is set in Edinburgh
Across the road at the Factotum Letting Agency, the girls in the office are very interested in the book. Twenty-six-year-old Jodie and 24-year-old colleague Sally look at the semi-naked woman on the front cover.
Without looking up, Jodie says: "That is quite fun. I am intrigued by it. It gives a new perspective to Dublin Street. It is quite a conservative area. I think Dublin Street is one of the least likely locations you could imagine for a story like that."
Sally adds: "I have never seen Dublin Street like that - it is very Edinburgh.
"It might be more appealing for an American market as it is set in Scotland, whereas I work here - it is not that exciting."
It is not just the girls who are interested. Twenty-eight-year old Simon Carpenter comes from the back of the office to see what all the fuss is about.
He said: "I saw it in the book shop and noticed it because it is the place I work. I was thinking about buying it. Is it a girly book? I might still buy it. There are many people in this street that you would say: 'I bet they are in an erotic novel'."
Quite.
Next door, at Ampersand interior design studio, is twenty-something American Jill Mistretta.
Is Jill interested in this fictional American living - and loving - in the street she works?
"That sort of stuff is just not for me," she says. "I like crime. I like Ian Rankin and Rebus.
"I'm American, I live in Glasgow, and I don't know a lot about Edinburgh. I may see what On Dublin Street is about online, but if it is in the same vein as 50 Shades then I won't read it.
"You go up and down Dublin Street and nobody really says anything to each other. We are just passing each other by."
But what about the people who live here? Surely they have seen something which inspired an erotic bestseller?
Graham Hutton is a songwriter. The 52-year-old said people in the area have been amused that their home street is now the location of a popular sex story.
He said: "As it is fiction I don't think people are taking it that seriously. A couple of neighbours in the local pub, The Star Bar, had a joke about it and about the sort of tourists that may now be attracted to the area.
"It might be amusing to buy a copy and to have it about for friends who are visiting. Dublin Street is very quiet.
"Maybe over the summer there will be interest when people turn up for the festival."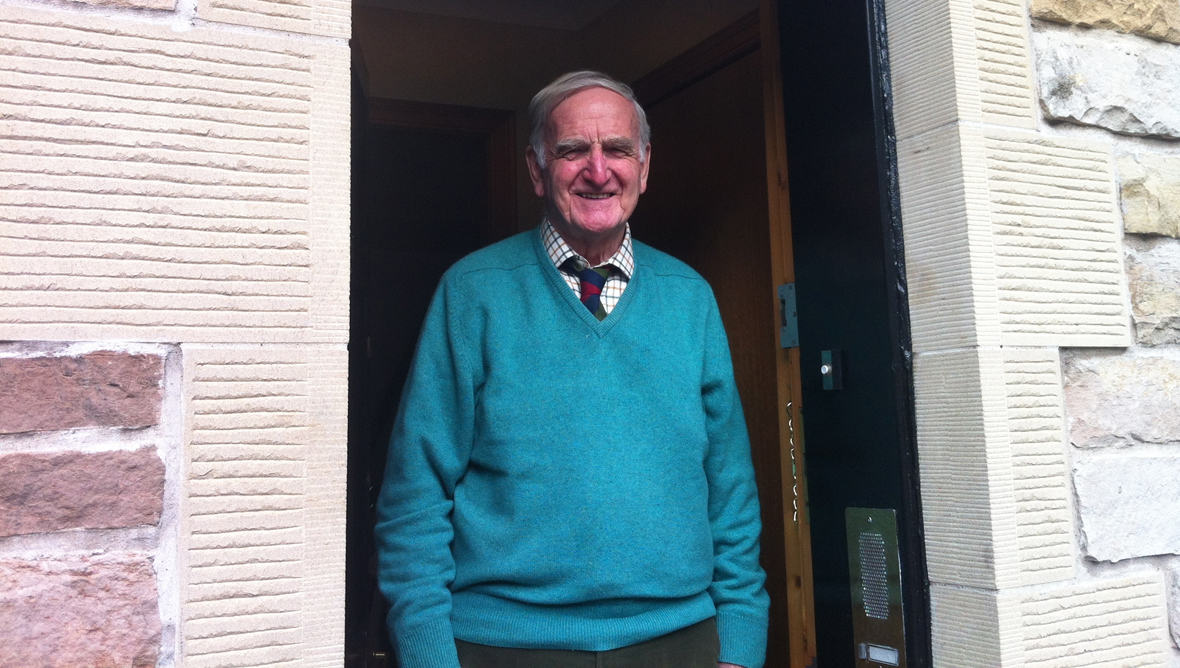 Ian Forbes
Meanwhile, Ian Forbes takes a break from making scones to give his thoughts.
The jolly 81-year-old, who is a retired factory owner, has lived in the area for 23 years.
He said: "I might buy it and see what it is about.
"There are a lot of rich people here. There is plenty that goes on, for sure.
"I have found during my long life that things happen all around you and you don't realise. There are a few rented flats around here - students, most of them English.
"The bottles that are put out for recycling are mostly champagne."
So after spending a few hours in Dublin Street, it seems nobody here has read the book and there is little evidence of people who inspired an erotic tale.
But that is, perhaps, the point.
As Ian contends, who really knows what is going on in the houses around you?
Who knows what erotic tales are playing out behind closed doors? It is Valentine's Day, after all.