Cockenzie Power Station shuts down marking 'end of an era'
Environmental campaigners welcomed the closure of the East Lothian plant.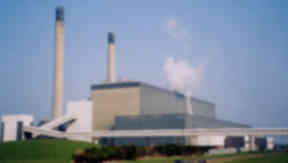 Cockenzie Power Station in East Lothian has shut down for the last time.
In what Scottish Power has described as the "end of an era", the coal-fired facility ceased generating energy on Friday morning.
The plant stopped produced power at around 8.30am having completed its 20,000 operating hours when it opted out of the EU's Large Combustion Plant Directive in 2008.
Around 100 workers are currently employed at the station and Scottish Power said many are moving into other power stations or business areas with the company, while some have taken redundancy or retirement.
Scottish Power has received planning permission to build a combined cycle gas turbine power station on the existing site at Cockenzie, although it says it is continuing to "evaluate options for the development" of the site.
Neil Clitheroe, Scottish Power's CEO of energy retail and generation, said: "It is the end of an era for Scottish Power and for the people at Cockenzie Power Station, who I would like to thank for all of their hard work and commitment over the last 45 years. Every man and woman who has ever been connected with the power station has played an important role in helping to keep the lights on in Scotland and across Great Britain.
"When Cockenzie became operational in 1967, the world was a very different place, but the station was designed to such a high standard that it played a pivotal role in maintaining the security of electricity supplies in Britain for more than four decades.
"Cockenzie is one of a number of core power stations in Britain that are due to cease operations this year, and it is vitally important that we receive clarity from the Energy Bill to allow companies like ours to be confident in making investment decisions for a new generation of replacement gas power stations. We have planning consent for a new gas-fired station here in Cockenzie, but like many other companies, we are unable to commit to new investment in gas generation until we fully understand how the market will work in the future."
Staff will remain on the site until the end of March before the process of decommissioning the power station begins. In a statement, Scottish Power said: "All of the old plant is due to be stripped from inside the turbine hall, some of which will be recycled and put to use at other power stations in Scottish Power's fleet. No firm timetable has been put in place for any work beyond this, but the company will keep the local community informed of any future plans at the station."
Environmental campaign groups have welcomed the closure of the plant.
WWF Scotland director Lang Banks said: "The closure of Cockenzie coal-fired plant power station marks an important milestone in Scotland's progression to a 100% renewable future. Renewables now generate more of Scotland's electricity needs than either coal or gas and last year reduced emissions by over ten million tonnes.
"A 100% renewable Scotland is not only possible, it's also necessary if we want to ensure security of supply while generating clean electricity free from the volatile prices rises of global markets.
"Cockenzie had been one of the most polluting power stations in Europe. However, thanks to the amazing progress made in generating more power from renewable sources Scotland can now look forward to secure supplies of pollution-free energy."
The campaigners also believe there is "no need for the proposed new gas plant" at the site in East Lothian.