Secret underground bunker in Edinburgh opened up to visitors
The bunker was built beneath Corstorphine Hill during the 1950s to help defend against nuclear war.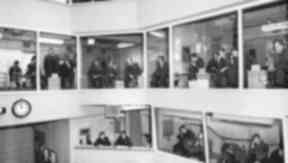 A secret bunker hidden beneath Corstorphine hill in Edinburgh is to be opened up to visitors for the first time.
The bunker was built as a retreat for military personal in the 1950s and was designed to help defence Scotland is nuclear war has broken out.
The site had been derelict for years and was recently bought by James Mitchell, who runs Scotland's Secret Bunker near Anstruther, Fife.
He hopes to turn the bunker, set into the rock at Barnton Quarry, into a museum and visitor attraction.
The 30,000sqft bunker has 10ft thick walls which would have protected 400 people from the radiation.
Included in the complex was a radio station to broadcast messages to survivors, operations room and a kitchen with enough supplies for two weeks.
Mr Mitchell hopes to open the bunker to the public in three years' time.