Forty-stone man ordered £120 of pizza on fraudulent credit card
Liam Johnston has been ordered to compensate Domino's in Bathgate for the cost of four giant pizzas.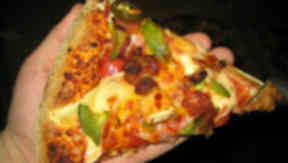 A 40-stone man has been ordered to pay compensation to pizza chain Domino's after he paid for four king-size meals on a fraudulent credit card.
Liam Johnston, 21, was sentenced in his absence at Livingston Sheriff Court after claiming he was "too fat" to attend the hearing.
The court was told Johnston called Domino's Bathgate branch and ordered four large pizzas on a credit card, but when the food was delivered it emerged that the card belonged to someone else.
The case had been held up after Johnston failed to make it out of the door of his home in Whitburn, West Lothian, two weeks ago.
On another occasion he made it to the entrance of West Lothian Civic Centre, but was unable to climb the stairs to the courtroom on the first floor.
On Thursday Johnston's lawyer, Kevin Dugan, produced a letter from his GP confirming he was "medically unfit" to attend court.
Sheriff Peter Gillam said: "Was he fit enough to go to Domino's and get these pizzas?"
Mr Dugan replied: "No, my lord. He phoned them up."
Johnston was ordered to pay £120 compensation after pleading guilty to obtaining goods by fraud.
Sheriff Gillam adjourned to case to give him time to save money to pay the amount. He also called for an updated medical report.