Michael Jackson's guitarist and a record attempt at Guitar Festival
Record breaking attempts and world renowned guitarists for the debut Edinburgh Guitar and Music Festival at the Corn Exchange.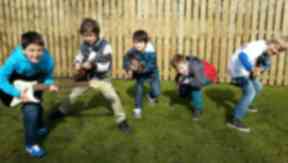 It is not every day you will be able to see Michael Jackson's guitarist performing in the room next to local bands.
The debut Edinburgh Guitar and Music Festival is giving the opportunity for local performers and international stars to make an appearance across the three day event from Saturday, May 25 to Monday, May 27.
Over 120 international artists will make their way to the Corn Exchange with a variety of classes, concerts and exhibitions.
Festival organiser, Adam Dzierzek, said: "It is the first time we will host something like this in Edinburgh and I think we really needed it here.
"We tracked down artists from all over the world including Japan, America, Italy and Spain.
"There has never before been anything like this in the City and even Michael Jackson's lead guitarist who was on the Thriller tour, Gregg Wright, is performing.
"We've booked every hall in the Corn Exchange and each room will have something different."
The main hall will host an exhibition of music related equipment including products from Yamaha and Fender.
There will also be 23 seminars on offer with different types of guitar music from slide to folk and each hall will host a different genre from classical to pop.
The concert events will see Sandi Thom headline the Saturday event with support from Edinburgh singer and songwriter Callum Beattie.
The finale event will see headliner Donnie Munro takes to the stage with support from Bags of Rock, Maggie Adamson and Brian Nicholson.
But it is not only these concerts that will take place, as a variety of worldwide artists will perform across the weekend.
Alongside the world class musicians, locals are invited to take part in the group's record breaking attempt with a charity fundraising Minstrel Walk.
Held outside the Corn Exchange in the field opposite the building from 10am every day, the public are invited to dress up in costume and walk around the space playing The Proclaimer's hit song I'm Gonna Be (500 Miles).
Adam said: "We will have a circuit set up and we've applied for a marquee and stages to have live music outside too.
"I think the walk is a really original way to raise money for the charity other than a sponsored walk.
"No matter what their age, people can join and the play tune that originates from Edinburgh."
The group are aiming to break the current world record and have 6500 players performing in the venture over the three days.
To take part, you can download a sponsorship form online and all proceeds raised will go towards the Festival's charity Nordoff Robbins Music therapy in Scotland.
As part of the walk, prizes will be given for most original medieval costume and best family costumes.
There is also an online tutorial video to help you learn the chords ahead of the day.
For the full programme details visit the Edinburgh Guitar and Music Festival website.