Siobhan Wilson ready to sparkle and shine at Wide Days Live Showcase
Modern folk singer and songwriter Siobhan Wilson has been selected to perform at this year's Wide Days live showcase.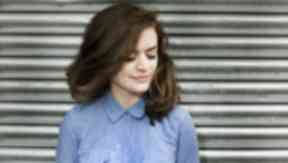 Known for discovering musical gems in the treasure chest of up and coming talent across Scotland, Wide Days are back with their Scottish music convention.
The two-day event hosts a range of seminars, speeches and showcases educating and celebrating the best in up and coming Scottish talent.
The live act showcase will take place on Thursday, April 11 across three venues; The Pleasance Theatre, Sneaky Pete's and Electric Circus.
One particular jewel shining from the box is 24-year-old singer and songwriter Siobhan Wilson who will perform at Pleasance Theatre.
Siobhan Wilson explained: "I got involved with the Wide Days showcase after meeting the organiser last summer at the Fringe Festival.
"I was performing two songs at one of the Born to be Wide showcases at Electric Circus and this year they asked me back to play the main event and I was over the moon."
Siobhan grew up in Elgin and has lived in Paris and London, but she is no stranger to Edinburgh either as she spent two years studying at a music school in Corstorphine when she was 16.
She said: "I was technically too young then to go 'out on the tiles' so it is really nice playing those venues now.
"I feel although I know them all, it's new to me. I guess because I know them, but not in the music scene.
"I'm based in Glasgow at the moment so that is home for now, but every time I venture away I always come back.
"Scotland is the best place. I think there is a real community within the music scene in Scotland and that is what makes you want to stay."
Despite being influenced by classical and jazz music, Siobhan explained her heart lies in folk music focusing on artists Joni Mitchell and Sandy Denny.
Siobhan said: "I'd say it is quite folk-sounding but not your traditional Scots folk, only in the music sense.
"There are sweeping medleys and lyrically there is a folk twist. It's not all acoustic either; I also play electric guitar and piano.
"I like taking that folk vibe and making it really modern."
Her visit to the Pleasance Theatre will be her debut performance at the venue and she will perform alongside Aberdeen's Washington Irving.
It is not the first time the two artists will share the stage, as the band's guitarist Kieran Heather is known for collaborating within her live set.
Siobhan said: "It should be a really chilled out acoustic gig.
"I always prefer intimate settings for gigs; they have the perfect vibe for what I do within that cosy atmosphere."
Writing all her own material, Siobhan cites her lyrical inspirations as John Martyn and Joni Mitchell after growing up listening to their music, she has been drawn back to their talent to inspire her forthcoming tracks.
And these possible releases will also excite fans of Frightened Rabbit, as Siobhan has been recording home demos with Gordon Skene from the band, yet has not decided what the outcome will be with the finished product.
As she builds on her live appearances, Siobhan is set to play Wickerman and Solas Festival this Summer.
Tickets for Siobhan's Wide Days showcase slot are available to book for free online, limited to one ticket per person.