Quiet as a Mouse causing a stir in the city as they plan debut release
Quiet as a Mouse are tackling the Edinburgh music scene with a series of live gigs and plans to release their debut EP this September.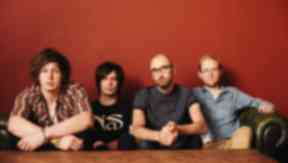 Most people may look on Gumtree for furniture for their new flat, or perhaps even looking for a new job but now the site is bringing together local talent creating new and exciting bands.
Trawling through adverts may be a painstaking process even attending interviews and auditions can take you on a roller coaster ride.
But you never know, it could be the start of something special as the site is responsible for bringing together Edinburgh band Quiet as a Mouse.
Vocalist and Guitarist from the band, Steve Allen, said: "It's quite crazy, you can go through a world of pain going through these adverts and have a pretty spectacular time along the way meeting some really strange characters, but with this it just kind of clicked.
"It all just fell into place and we got loads of gigs booked."
Lead Guitarist and vocalist, Alex Moran already knew bassist Kevin Turner and on advertising for new members found Steve Allen and drummer Graham Longbottom.
Formed in November of last year, Quiet as a Mouse are certainly not living up to their name as already the band have performed with Palma Violets, The Crookes and Hey Sholay.
But after all, it is not all about the name.
Alex said: "It came from the top of my head.
"I've been playing music under a few names, but never really had a name that I loved.
"As soon as I had this name and I just knew it was a good name and it felt right. It's really difficult to find a band name but I was really excited about this one."
This month, the band are offering a free download of single An Accident Waiting To Happen (Awoo Woo Woo) via SoundCloud to excite fans ahead of their debut mini-album release in September.
Steve said: "We don't have the same influences at all, but that's a good thing.
"We all bring to the table something completely different and elements of our own playing and styles.
"It's an amalgamation of all our tastes which seems to work."
Alex added: "There's nothing pre-determined with our sound, some bands know what they want to sound like but for us we dissect each song."
Kevin Turner said: "I think you've got to have a mixture of songs, ones that you enjoy playing live and then the tracks that people can sing along to."
The band completed the recording of their debut EP with producer Marcus Mackay who has worked with Frightened Rabbit, Snow Patrol and Sparrow & The Workshop.
As well as an EP release, the band are performing three live gigs this April and will appear at Electric Circus in Edinburgh on Saturday, April 13 and Glasgow's King Tuts on Monday, April 29.
Just like many bands across the city, Quiet as a Mouse have their own favourite venue in the Old Town.
Steve said: "I love The Caves, it was quite strange when we played there as the band we were supporting were as far away from our style as you can get.
"It was full of rockers in leather jackets and cowboy hats, probably around 50 or 60 years old and we're banging out melodic tunes, but they seemed to really like it."
Kevin said: "The Caves is a phenomenal venue. The sound quality there was a different class for us."
But it is not only the sound quality that draws the band to a venue, as they joke about fairy lights becoming a part of their set.
And true to their word, fairy lights scatter the speakers in their rehearsal room as they prepare for their forthcoming gigs.
Video by Laura McLean