Hearts fan bid chief: Ukio Bankas bankruptcy is wake-up call to supporters
Ian Murray MP believes fans must make their move soon as creditor begins bankruptcy.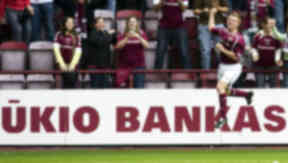 The man spearheading fan efforts to buy Heart of Midlothian believes the news that Ukio Bankas has officially entered bankruptcy should be a wake up call to the support.
Ian Murray, a Hearts fan and MP for Edinburgh South, is chairing the combined Hearts supporters groups who are trying to co-ordinate a fan takeover at Tynecastle.
After Ukio, to which Hearts owe £15m, was handed over to Lithuanian bankruptcy administrators Valnetas on Thursday, Mr Murray said the seriousness of the situation facing the Edinburgh club has never been more stark.
Valnetas are now charged with getting the best deal for creditors, and reclaiming as much of the Hearts debt back as possible.
An official involved in the administration process of Ukio since February told Bloomberg News on Wednesday that the failed bank had claims to the majority shareholding in Hearts and the ownership of Tynecastle Stadium.
Mr Murray, who hopes the fans can put together a bid in the next month, said: "We know the window of opportunity is narrowing.
"The key thing at the moment is to say to Hearts fans that if they didn't think the situation was serious after [Thursday's] announcement, they should.
"If they want the fans to buy the club, they should be pledging on the Foundation of Hearts website. There's no white knight that's going to march in and save Heart of Midlothian Football Club."
Football finances expert Neil Patey of Ernst and Young said the administrators in Kaunas would not see the £15m owed by Hearts as a priority.
He believes that if the fans go to Valnetas with a credible offer, they stand a chance of securing the club for a knock-down price.
Mr Patey said: "If you are the administrator there, even if you're dealing with other priorities, if someone knocks on your door with a credible offer of value for an asset that you're trying to clean up, you're definitely going to enter into discussions.
"You might even welcome someone approaching you with a good offer."