Student inspired by death row injustice wins music competition
Isla Ratcliff's work is about Troy Davis, who was executed in America two years ago.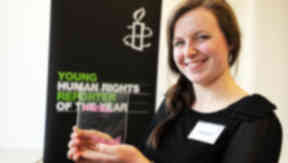 The case of a man condemned to death for the murder of a police officer in America could be considered an unusual source of inspiration for the Higher Music composition of an Edinburgh student.
However, for Isla Ratcliff, the conviction of Troy Davis and his subsequent execution were subjects she felt passionate about enough to reflect through song.
Now the 16-year-old City of Edinburgh Music School student has won a prestigious award from the human rights organisation Amnesty International for her work, entitled Death Row.
Davis was given the lethal injection in September, 2011 for the murder of off-duty police officer Mark MacPhail.
MacPhail was shot dead in 1989 after trying to help a homeless man who was being attacked in the car park of a Burger King branch in Georgia.
Davis always maintained his innocence and campaigners continue to highlight the many flaws in the case against him.
Isla heard about Davis' case on the radio as she was considering her higher music coursework. She subsequently composed a work for chamber choir and bass drum.
Both of Isla's parents are supporters of Amnesty and Isla read about the Amnesty International UK Power of Our Voices competition in a magazine from the group. She decided to make a haunting arrangement of her piece for piano and solo voice.
"I've always been against the death penalty in all circumstances," said the teenager.
"I thought it was best to focus on one particular case. I found Troy Davis' case particularly chilling because of the doubts over it.
"I thought I would write a song, and I wanted it to have a message so I thought Troy Davis case was a good story to base it on.
"I had already written the composition and I thought this was the perfect opportunity to showcase it and see where it takes me.
"When I began writing that piece back in 2011 I had no idea where it would take me. I am delighted to have won."
Isla has been musical throughout her life. She has been learning violin since she was five, piano since she was 11 and has been song writing for the past two years.
She won the Power of Our Voices competition at an event in the London Human Rights Action Centre last month.
Around 700 students from 70 schools across the UK took part in the contest, which was judged by music writer Dorian Lynskey, producer Steve Brown, rapper Kate Tempest and music teacher Jonny Slater.
Isla, who lives in Inverleith, won the 'Lyrics' section, with Adam Bojelian of the capital's Forthview Primary School one of three runners up. Isla also finished runner up in the 'Performance' category.
Isla Ratcliff performed with Nicola Benedetti at the Usher Hall
The teenager is no stranger to the limelight. In 2010, she performed a violin duet with classical music superstar Nicola Benedetti in the Usher Hall in front of 2000 people after she was chosen by her school, which is part of Broughton High School.
Her family also has a personal connection to the death penalty. Her great-great-great-great-uncle Robert McIntosh was hanged in 1822 for murder. According to the National Archives, McIntosh was sentenced to death at a court in Aberdeen following the death of Elizabeth Anderson.
Following her win in London, Isla performed Death Row at a gig about peace and struggle with the Scottish singer-songwriter Karine Polwart in Teviot Row House in Edinburgh as part of TradFest. You can listen to a section of this performance in the video above.
Now Isla is set to appear on Radio 1 as part of the Amnesty International win and she has been accepted for a week's course at Oxford University's music summer school.
But there is the small matter of her school work to get through first. Isla will be concentrating on passing her exams, with Advanced Higher Music this Friday and Higher exams in English, Maths, Chemistry and History over the next month.
She said: "I hope the song will raise awareness of the issue. For me, it has given me confidence in my song writing skills."