Sister of man killed by driver 'shocked' at sentence for second death
Ann Dalgity said Gary McCourt's sentence of a five year driving ban for killing Audrey Fyfe was 'disgraceful'.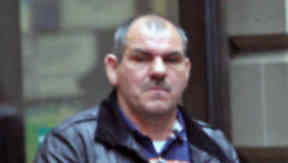 The sister of a man killed by a driver 28 years ago has expressed her shock at his sentence for killing a second cyclist.
Gary McCourt, 49, was found guilty of Audrey Fyfe in Edinburgh when he hit the back wheel of her bike. Mrs Fyfe, from Joppa, died two days after being struck by McCourt at the junction of Portobello Road and Craigentinny Avenue on August 9, 2011.
He was banned from driving for five years and ordered to carry out 300 hours of community service for causing death by careless driving.
It was not the first time McCourt had killed a cyclist through his driving. In 1985, he hit George Dalgity on Regent Road in Edinburgh. Mr Dalgity died in hospital eight days later.
On Tuesday, Mr Dalgity's sister, Ann, joined forces with Mrs Fyfe's family to complain to the Crown Office about his sentence.
She said the family had written a letter to the sentencing sheriff to tell them about Mr Dalgity but she felt it had not been taken into account.
Ms Dalgity said: "I think we should be sending a message to people that you can't drive about like that and to make the roads safer for vulnerable road users, cyclists and pedestrians too.
"The sentence was scandalous, I just couldn't believe it, it's ridiculous. We handed in a letter, just saying what had happened, and we assumed that was going to be taken into account but that doesn't seem to have been the case."
Ms Dalgity said she was "surprised" when she realised the man who killed Ms Fyfe was the same man who killed her brother.
She said: "I heard it on the radio and I felt sorry for Ms Fyfe but I also felt sorry for the driver because I knew how I would feel if I had done something like that. But when I realised who it was I was completely surprised. I couldn't take it in, it's just terrible.
"It's just disgraceful, five years driving ban, it's nothing. He should have at least a lifetime ban, probably custodial because it sends out a message to other drivers."
Ms Dalgity, along with Ms Fyfe's widower Ian and daughter Linda Hamilton, handed in a letter to the Crown Office on Tuesday complaining about the sentence.
A spokesman for the Crown Office said the sentence was still being considered. He said: "Crown Counsel will give careful consideration as to whether the sentence was unduly lenient."