Council considers £1m bid for Leith Waterworld from softplay company
The City of Edinburgh Council said they had an unsolicited offer from the national softplay operator.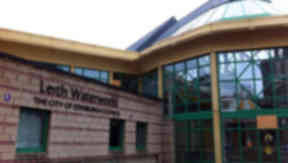 A bid of £1m for Leith Waterworld from a national softplay company is to be considered by the council.
The centre was closed by the City of Edinburgh Council in January last year and they planned to sell the site to help fund the refurbishment of the Royal Commonwealth Pool.
The sale had been put on hold while community group Splashback try and put forward a bid to run the site themselves and save it from closure.
In January, a full council meeting decided to give the group until the end of the year to come up with a viable plan for Waterworld. If they failed, the building would be put back on the market.
On Wednesday, the council confirmed a national softplay operator has put forward an unsolicited bid of £1m for the site.
A report, to go before full council next Thursday, lays out the details of the bid and councillors will have to vote on whether or not to accept it. They will also be presented with a report updating them on Splashback's progress.
Councillor Richard Lewis, the city's Culture and Sport Convener, said: "Over the last few months officials and elected members have been working closely with Splashback to progress the feasibility phase of their community bid to run Leith Waterworld. I'd like to thank Splashback for their continued commitment to developing their community bid.
"The council had agreed in January to re-market the property whilst we were supporting the feasibility phase of Splashback's bid and in the intervening months we received two new unsolicited notes of interest in purchasing Leith Waterworld, one of which is being taken to council for consideration."
A spokesman for Splashback said they have made progress over the last three months and trust the councillors will not accept the £1m offer.
He said: "Over the last three and a half months, we have worked with Councillors and officials in good faith, and while there remains much still to do, we have made significant progress, including developing a fundraising plan and applying for charitable status.
"Splashback understands that this new bid leaves Councillors with a decision to make at next week's Full Council meeting - whether to continue working with us to achieve a revitalised Leith Waterworld, or to pursue the new bid at this stage.
"However, we have faith in the letter and the spirit of the amendment carried on 31 January, and believe that the conviction displayed by Councillors on that day will guide their decision. We look forward to continuing to work with the Council to deliver on the commitments they made in January."
Splashback fought the closure of the pool before offering to run the leisure facility themselves. They submitted an initial bid last August but it was rejected by councillors in September.