A little bit of Spain in Summerhall for Basque cinema screening
CinemaAttic are bringing the best of the Basque to Summerhall for a special one night only screening session in the Red Lecture Theatre.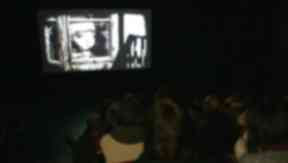 Originating from secret loft screenings and growing to become a film festival in their own right, CinemaAttic are back with a one night only screening at Summerhall.
Founder of CinemaAttic Carlos Redondo moved to Edinburgh seven years ago for a film studies course and lived in a flat with a small attic. Using his passion for the cinema, Carlos converted the space into a cinema so his friends could enjoy a range of films.
From this moment on his project CinemaAttic was established as an arts and culture blog exploring his thoughts and ideas surrounding independent cinema.
Over the years this concept has expanded from one small attic screen to a film festival and several screenings scattered throughout the year.
Carlos will bring back the spirit of independent cinema celebrating short films originating from the Basque Country, a community of northern Spain, to Summerhall on Friday, June 14.
He said: "There isn't enough Spanish cinema in Edinburgh and although we've managed to do our own film festival since 2009. It's great to keep coming back.
"We have quite a big connection with the Basque Film Archive and they are one of the most important distribution people we work with. They've been really keen to help us out and they really look after Spanish."
Film Distribution Company Kimuak select the best Basque short films working with the Basque Film Archive and create an annual DVD featuring film makers Borja Cobeaga, Isabel Herguera, Asier Altuna and Telmo Esnal who have between them won more than 80 awards for their work in the industry.
The DVD is then shipped worldwide for screenings across the globe celebrating home-grown cinematic talent.
With CinemaAttic's collaboration with the groups, they have gathered the films from 2011 and 2012 to showcase at the one-off screening.
Carlos said: "I really enjoy working in short films, there were 50 different films I had to watch. I find it really surprising looking through all the material. To be honest, they were as good as high class films.
"It's a funny thing, it's really surprising discovering them. There is a diverse radiance reflected into each film and they are taken from all over Spain.
"There are diverse film subjects and Spanish is a language that people are choosing to study more so it's fascinating and really nice. It's great being able to mix it up and add a touch of Spanish culture."
The screening will consist of ten short films with English subtitles providing an overview of what is happening in Spanish cinema in the Basque Country.
Many of the films selected would normally be saved for large commercial screenings within the film industry and not exposed out with the close community until now.
It seems the venue was a deliberate choice, moving away from your typical film surroundings and returning to an intimate environment at the Red Lecture Theatre.
Carlos said: "I know the owner of Summerhall as we met at the Filmhouse and helped organise a few film nights in different venues across the city before he had taken over that venue.
"I think it's really the venue of the moment and I'm really excited to be hosting the screenings there."
Tickets for the night cost £5 and are available to book online.