PC admits stealing drugs and cash from police station in Glasgow
Dean Burnett has admitted taking more than £200,000 and drugs from an evidence store, but denies drug dealing.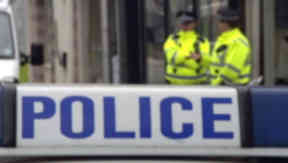 A police officer who stole drugs and cash from a police station told detectives he had been helping himself to evidence gathered during investigations.
Dean Burnett, 42, said he "completely flipped" when interviewed about the items taken from the production store at Govan police station in Helen Street, Glasgow, where he worked as a constable.
He has admitted stealing £205,279 in cash as well as quantities of cocaine, cannabis and heroin and amounts of powders which he believed to be drugs between August 1 2010 and January 25 last year.
However, Burnett denies further charges of supplying cocaine and diazepam and offering to supply heroin.
The High Court in Edinburgh heard that he admitted to detectives he had "no idea" how much cocaine he had taken from the police station.
He also said he had taken a small amount of heroin that was enough to allow him to take his own life.
Allegations were put to him that escort girls had visited his house and were given drugs, but Burnett insisted most of what he had heard was "made up".
The jury was told that items seized by police, such as drugs, were placed in production bags and kept in storage.
Detective Sergeant Jane Lawson said she had taken part in a search of a flat in Rosevale Street, Partick, Glasgow, on January 26 last year.
She said "numerous" bags were found in bin bags at the property, including one that was empty but had previously contained wraps of white powder.
Defence counsel Sarah Livingstone said Burnett confessed to a colleague he had done something wrong and left the premises open so police could get in.
Jurors earlier heard that it was agreed evidence that Burnett had sent a text on January 26 last stating: "Sorry I went a bit mad well completely mad, have left my front door unlocked, keys are in the hall with everything else."
The text ended: "I gambled the lot could not stop, went mad."
On Friday the Crown accepted Burnett's guilty plea to the charge of theft. Allegations that he had stolen other drugs, including amphetamine and viagra, and sex toys were deleted from the charge.
He remains on trial for the drug dealing charges, which he denies.
The trial, before judge Sean Murphy QC, continues.