Danny MacAskill soars high in new film production of blazing saddles
The 27-year-old Skye rider will unveil his new work, Imaginate, in Edinburgh this weekend.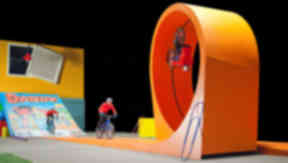 He jumps and feints, does backward flips and forward swoops, and transports himself from train tracks to giant toys with the effortless fluency of a master at the height of his powers.
This is Danny MacAskill, the 27-year-old Skye-born street trials cyclist who surged into the stratosphere with his breathtaking stunts in and around many of Scotland's most iconic buildings, from Edinburgh Castle to the Forth Bridge. Think Bradley Wiggins meets Busby Berkeley; somebody who can make the most complicated piece of choreography look like the simplest thing on earth.
Yet, as MacAskill told STV on Tuesday, the nonchalance with which he creates thrilling new manoeuvres hasn't happened without significant amounts of pain. Indeed, as he gears up for the Scottish premiere of his new, six-part documentary series, "Imaginate", the Scot admitted he has had to battle hard to recover from a back injury sustained last year.
"It's part and parcel of cycling and I've broken various bones in my career, but I was concerned enough about my back that I went to America to help get things sorted out," said MacAskill.
"I feel fine at the moment, but these last few months filming at the Kelvin Hall [in Glasgow] have been gruelling. I suppose that, ultimately, your body gets used to taking a lot of abuse. When you are working out what to do next and planning fresh concepts, you come to recognise there will be days where things go smoothly and others where they don't."
MacAskill has been operating in partnership with Red Bull since last November on his epic venture, which takes him back to his childhood and pitches him into a domain, where everything from pencils to bricks are fearsome obstacles to be negotiated.
It is the world of The Incredible Shrinking Man and Scottish aficionados of this maverick character will get the opportunity to witness the intricate excitement of man and bike weaving a mesmerising path from childhood to maturity when "Imaginate" is premiered at the Ross Band Stand in Princes Street Gardens on Saturday, June 22, at 8pm. It is one of the crowning moments of this year's Scottish Bike Week.
The project has been two years in the making and effectively takes the viewer inside MacAskill's mind. Suffice to add he has a vivid imagination which he has brought to fruition.
"As a kid, I was hyperactive, but also a bit of a day-dreamer, and Red Bull gave me a completely blank canvas to do what I wanted to do, for which I am hugely grateful.
"As a child, I used to play with my knife and fork, my pens and pencils, my building bricks .. virtually anything which came to hand. I was a fidget.
"But from an early age I was fascinated by these things and it was fantastic to go behind closed doors and be allowed to build the kind of sets which, until now, have been a pipe dream. I wanted something which was different from what I had done before, and I am hopeful I have achieved it.
"I had such a free range that it permitted me to do tricks which were impossible until now. It has been hard work, but also a huge amount of fun."
The Princes Street location is being transformed into a bespoke outdoor cinema for the premiere.
And, with MacAskill in attendance, those fortunate enough to gain [free] seats will not only be treated to some stunning footage, but participate in a Q & A session with the star.
"I'm not sure what I'll do next, after I have completed the publicity for Imaginate. I am going to Europe and there has been plenty of interest from lots of different countries," said MacAskill.
"I certainly want to keep pushing the boundaries. A lot of my heroes are in their 30s and even their 40s and the challenge is to keep coming up with new ideas and visions.
Invention and innovation go in tandem for this redoubtable individual. So much so that one would imagine he would be the ideal person to embrace centre stage during the opening ceremony of next year's Commonwealth Games in Glasgow, the city which he has made his base for the forseeable future.
"I haven't spoken to them [the authorities] so far but if I was asked I would love to be involved in the Games," said MacAskill.
"But I never look too far ahead. I haven't forgotten how I had to fight against injury for such a long time. I'm riding for fun in the next few months. I love doing that."
That is MacAskill in miniature. Captivating, illuminating. For want of a better word, Imaginating.
Don't forget the freshnlo Pedal for Scotland bike ride takes place on September 8. Choose from either the nine-mile Family Ride, the 47-mile Challenge or take on the 110-mile Sportive.
Starting in Glasgow Green and finishing at Murrayfield stadium, this year the event's charity partner is the STV Appeal which aims to raise money to help children living in poverty in Scotland.