Totally Sound 'Get Lucky' as Nile Rodgers gatecrashes 10th birthday
When a community music project in Edinburgh threw a party to mark their tenth anniversary, they didn't expect Nile Rodgers to drop by.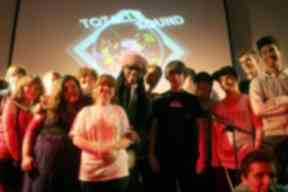 It's not every tenth birthday party that Chic frontman Nile Rodgers gatecrashes on a Saturday night.
But when the legendary American guitarist made a special appearance at Summerhall, on June 29, he wasn't looking for a game of pass the parcel and a party bag, but to praise the next generation of Edinburgh musicians.
Rodgers, whose 1959 Fender Stratocaster is responsible for an estimated £1.3billion worth of hits from acts such as Madonna and David Bowie, popped in to Totally Sound's tenth birthday celebrations while he was in town to perform at 'Indigo Night'.
The surprise special guest stunned members of the community music project, many of whom have grown up idolising the producer since the 80s, or are of the new 'Get Lucky' generation more familiar with his Daft Punk collaborations.
"We were sitting at the table when a rumour started going around that he was there," said Luke McAdie, 15, a Totally Sound participant who performed at the event.
"We all ran out and there he was. He came onto the stage and complimented our drummers' drumming - he must have heard it from the dressing room - and said it was great that Totally Sound were encouraging the next generation."
Luke performed at the birthday celebrations in newly formed band The Imminent Llamas, made up of friends he met through the Totally Sound music project.
Although new to the project, Luke is already gaining confidence in his performance and networking with other young musicians his age.
"It was great. It was the first time I'd ever performed as well," said Luke, a pupil at Holyrood High.
"You get up there and everything just comes out of your head, it's a great feeling. The feeling of the crowd cheering you on. At the moment our band's called The Imminent Llamas, imminent because we're up and coming - but it's a working title."
Featuring 30 performers, the Summerhall event showcased the work of the community music project over the last 12 months, while also celebrating its first decade of providing Edinburgh's young people access to music.
Whether Totally Sound's participants want to follow Nile's fingertips as lead guitarist, or are drawn to production and penning lyrics, Totally Sound aim to give them inspiration and guidance.
The project runs a Saturday afternoon workshop that draws musically minded secondary school pupils and school leavers from across the city. For £2 a session, young people have access to tuition in various instruments, songwriting and music theory from professional musicians.
"It's just great to be around other people with the same interests, to go somewhere where there's other young musicians," said Luke.
"You meet up and jam and then later you can start writing songs. It's really enjoyable and the tutors are really patient if you're not very good at something."
Access to digital recording studios and live rehearsal spaces allow budding musicians to gain hands-on experience of making their own tunes and set them up for a career in the industry should they have designs on stardom.
The project receives its core funding from Edinburgh Council's Open All Hours budget, some from Creative Scotland and the rest is met through their own fundraising endeavours.
Fraser Fulton, 20, who performs in band The Victorian Trout Conspiracy, started attending Totally Sound when he was 13 and has since gone on to become one of the project's tutors.
"The first thing that struck me about Totally Sound is that the tutors are working musicians, many of them are gigging full time and I struck a chord with them," said Fraser.
"I was also amazed I got to use the recording studio. Going through to Totally Sound was the highlight of my week. When I got too old for the project I didn't want to go, so I volunteered for a while and then became a tutor. I want to give the new 13-year-old musicians the same encouragement I got when I arrived at 13.
"Some of the tutors are really good at getting you out of your comfort zone. Before I had never sang, I was just a guitarist. Now I've been a singer in every band I've been in. The tutor just kept pushing me and saying, 'don't be daft, just try it'."
Totally Sound was founded in 2003 by the Canongate Youth Project in partnership with Community Learning and Development at South Bridge Resource Centre and has gone from strength to strength over the last decade.
Previous participants are now beginning to make a name for themselves across Scotland, including band Mad Tango who headlined the Summerhall event and Fraser's band The Victorian Trout Conspiracy.
Totally Sound's coordinators hope that, as the work continues, future stars of the Scottish music industry will emerge, using experiences and expertise gained from their time at Totally Sound and that their work with Edinburgh young people can continue for decades to come.
"Music was never even a career consideration for me before," said Fraser.
"Now I make my living from music, and from the skills I learned at Totally Sound."