Man seriously ill in hospital after A9 crash kills wife and daughter
Andrew Houston, 42, was travelling with his family when the crash happened near Newtonmore on Tuesday.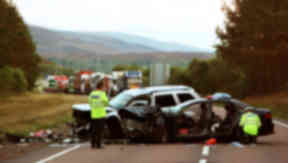 A Scots lawyer is seriously ill in hospital after surviving a crash on the A9 that claimed the lives of his wife and daughter.
Andrew Houston, 42, was taken to Raigmore Hospital in Inverness with another daughter, Lily, after their Audi A4 collided with a Jeep between Newtonmore and Kingussie on Tuesday evening.
His wife Abigail, also 42, and their daughter Mia, seven, died at the scene, along with a man who is believed to be a German tourist.
Three ambulances, four fire appliances and a helicopter were called out after the crash happened at around 5.45pm.
Shocked neighbours paid tribute to the family, who lived in the Trinity area of Edinburgh. Mr Houston is a solicitor-advocate at McSporrans defence lawyers and is believed to have been on a working holiday.
One described them as a "perfect family" and said: "It is absolutely awful, we are all in shock. It is just so sad. I don't think people can quite realise what has happened. The whole of Wardie Avenue is in shock."
Another said: "You wouldn't want it to happen to anyone but they are such a nice family. It makes it even worse that the wee girls were involved."
Mrs Houston worked for NHS Lothian, whose chief executive Tim Davidson said: "We are truly saddened to learn of the tragic death of Abi Houston and her daughter.
"Abi was a dedicated and valued member of our team and will be very much missed. Our thoughts are with the family at this distressing time."
Campaigners have been battling for years to turn the A9 into a dual carriageway for its entire length between Perth and Inverness after a series of fatal crashes there.
Highlands and Islands MSP David Stewart sent his condolences to the families involved in the incident.
He said: "Once more, families have been left grieving as a result of a collision on this route, which many describe as te route which is the backbone of Scotland's rail network.
"This is not a time for political point scoring, and I acknowledge the additional measures and improvements that Transport Scotland have undertaken, but for me dualling the A9 between Perth and Inverness is the answer and waiting 12 years for this to happen is just too long."