Aerial photos show Queen Elizabeth aircraft carrier nearly complete
The vessel is being built in Fife ahead of her launch next year.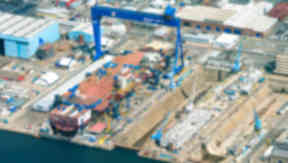 Aerial photos show the assembly of HMS Queen Elizabeth aircraft carrier is almost complete.
Workers are assembling the vessel at the Rosyth Dockyard in Fife ahead of her launch next year.
The images released on Tuesday show the ship with both 'islands' in place.
The Aircraft Carrier Alliance, which is behind the project, said all that remains is for her to have two flight deck extensions fitted plus a ramp that gives aircraft an extra boost on take-off.
When complete the 280 metre-long HMS Queen Elizabeth will weigh in at 65,000 tonnes.
She is the first of two new aircraft carriers being delivered to the Royal Navy by the Aircraft Carrier Alliance. HMS Prince of Wales is under construction at shipyards across the UK.
Programme director Ian Booth said: "These new images show really clearly how far this programme has come.
"We are well on the way towards delivering a world-class aircraft carrier that will represent the UK globally for the next 50 years. By the end of this year HMS Queen Elizabeth will be fully assembled and we are already looking forward to her launch in 2014.
"There are thousands of skilled men and women working on this programme and they should all feel proud of what they are accomplishing."
The Aircraft Carrier Alliance is a partnership between BAE Systems, Thales UK, Babcock and the Ministry of Defence.