Hibs Famous Five legend Lawrie Reilly dies overnight in hospital
The 84-year-old missed the last Scottish Cup final because he was being treated in hospital.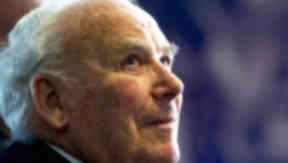 Former Hibs player Lawrie Reilly has died overnight in hospital.
He was the last of the Famous Five, the group of players which helped Hibs win three league championships in 1948, 1951 and 1952.
Reilly missed the last Scottish Cup Final because he was in hospital.
On Monday, friends confirmed the 84-year-old died overnight.
Former Hibs New Media Manager and Reilly's friend Stuart Crowther said: "He passed away overnight. It was very sudden and has come as a bit of a shock.
"His death is a very, very sad loss for the Hibs community. He was a very nice man and I spent a lot of very happy times with him during the times I worked at Hibs. He was such a gentleman.
"I would take football and he would take golf – they were the two loves of his life. He was a Hibs man through and through. The whole community will be very, very sad this morning."
On Monday, Hibs chairman Rod Petrie paid tribute to "a genuine legend".
He said: "We all feel the loss of a true Hibernian great, but our hearts must go out first to Lawrie's widow Iris and to his family. Our thoughts are with them at this sad time.
"The term legend gets bandied about, perhaps too easily, but Lawrie was a genuine legend.
"He grew up as a Hibernian fan and he spent his entire career with the club he loved. He was undoubtedly one of the club's greatest ever players, revered by all who loved attacking and entertaining football. He was also one of Scotland's greatest ever strikers.
"Lawrie retained his lifelong passion for the club he graced as a player and was a regular attender at matches, a matchday host and was one of the club's Champions. He will be sadly missed."
Along with Gordon Smith, Bobby Johnstone, Eddie Turnbull and Willie Ormond, Reilly was part of a famous Hibs team.
He made his debut with the team as a 17-year-old in the 1946-47 season. During his 12 years with the club, Reilly scored 185 goals in 253 league games.
He also scored 22 times in 38 games for Scotland, making him the fourth all-time Scottish goal scorer.
During his time at Hibs, the team did not win the Scottish Cup, making the team's appearance in the final for the past two years even more special for Reilly.
Speaking before the game in May this year, Reilly told STV it would be the "icing on the cake" if they lifted the cup.
He said: "Winning it would mean more to Hibs than it would mean to me, and it would mean more to the players playing than it would to me, but it would mean a lot to me."