How good is your wifi password? Security expert tests wireless networks
Security expert James Lyne 'warbiked' around the capital on Thursday, trying to find unsecure wifi networks.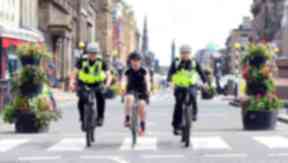 A man has cycled around Edinburgh trying to hack into wireless networks across the city.
Security expert James Lyne "warbiked" around the capital on Thursday, trying to find unsecure wifi networks which could be exploited by hackers.
His bike was equipped with dynamos and solar panels to power a computer which scans for wireless networks. Mr Lyne cycled along city centre streets looking for those which had no or poor security.
Hackers can join wifi networks and use it to directly attack computers and other devices to steal money or information. They can also track which websites you have visited, read emails and capture passwords.
The project was organised by the Scottish Business Resilience Centre (SBRC), who safeguard Scottish businesses.
They believe thousand of businesses have inadequate online security. Many use default network names, outdated security and sometimes completely unprotected networks.
Mr Lyne said: "If you are a small business or a consumer and your network is wide open, anyone can connect to your network.
"Once they have their foot in the digital door they can not only piggyback your network but also potentially launch attacks on your personal data. But by following a few simple rules and using the latest wi-fi security systems, you can significantly reduce the risks."
Police Scotland are concerned weak security also leaves householders open to attack, including from hackers who secretly download child abuse images to avoid detection on their own computers.
Mandy Haeburn-Little, Director of the SBRC, said: "One in three people in the UK was a victim of e-Crime in 2012 and one of the most common risks faced by businesses is poor IT security which potentially allows criminals to raid servers, steal identities and infiltrate bank accounts.
"Whether you are a small café, B&B, guest house, gym or a larger corporate operating an insecure wifi network, you leave yourself open to all kinds of criminality.
"It's easy to make your wifi network more secure by ensuring that it's password protected, that you are using a firewall and that you change any default settings."