Attacker who tried to kill man told police: 'The devil made me do it'
Yvonne Crawford told police after she stabbed Richard O'Rourke in Edinburgh.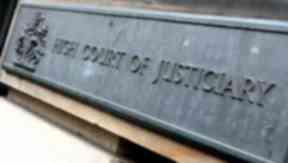 An attacker who tried to kill a disabled man turned up a police station with bloodied hands and told officers: "The devil made me do it."
Yvonne Crawford informed a counter clerk at Edinburgh's Wester Hailes station that the devil had told her to stab someone.
She revealed the identity of her victim and the address where she had carried out the attack.
Officers were sent to Richard O'Rourke's home at Walkers Rigg, in Edinburgh, where the amputee answered his door in a wheelchair with blood covering his head and upper body.
Advocate depute David Taylor told the High Court in Edinburgh on Friday that police could see wounds to Mr O'Rourke's head, face and right hand and also found a puncture wound on his stomach.
The prosecutor said: "There was a lot of blood on the living room floor and hallway. Broken glass was also over the living room floor."
Officers gave first aid to the attack victim as they waited for an ambulance to take him to hospital. The victim pointed out a blood covered eight-inch kitchen knife as having been used by his "girlfriend" to stab him and said she had smashed him on the head with a glass.
Crawford , 44, formerly of Walkers Wynd, Edinburgh, admitted assaulting Mr O'Rourke by striking him with a bottle or similar and striking him with a knife to his severe injury, danger of life and attempting to murder him on December 3 last year.
The court heard that she was later held under a treatment order at the Royal Edinburgh Hospital's Orchard Clinic. Mr Taylor said there had been concerns raised about her mental health and prior to the attack she was prescribed antidepressant and anti-psychotic medication.
He added: "It is believed that she stopped taking this medication three weeks before this offence."
The prosecutor said that since 2008 there were 29 listed calls to Crawford's address, most being in relation to her causing a disturbance in the stair or her feeling suicidal. He said she was known to make allegations against emergency service personnel who went to her aid and ambulance staff would not be dispatched without police.
Mr Taylor said that the on the day of the attack she had been socialising with Mr O'Rourke at his home. He said: "It would appear that the accused began to talk about her mother and father in Glasgow. She became agitated and smashed a glass on the victim's head then picked up a knife and stabbed him in the abdomen before leaving."
She was seen on the street appearing panicky and with blood on her hands before she went into the police station. She volunteered to a detective that she had stabbed Mr O'Rourke and added: "Jesus was telling me to stab the cat. I've got voices in my head, I'm the chosen one."
The victim had his wounds closed with a mixture of sutures, staples and dressings, while he did not require surgery. But a doctor who treated him said he had suffered a significant and potentially life threatening wound to the body.
The court heard that Crawford was considered sane and fit to plead. Lord Burns deferred sentence on her until later in the year and made an interim compulsion order. The judge said he would order reports from psychiatrists before dealing further with her.