Wife beating former MSP Bill Walker sentenced to 12 months in prison
Walker was found guilty of 23 charges of assault last month after a two-week trial.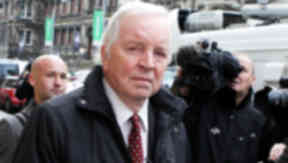 Disgraced former MSP Bill Walker has been sentenced to 12 months in prison for a string of domestic abuse against three ex-wives and a stepdaughter.
Walker was found guilty of 23 charges of assault last month after a two-week trial at Edinburgh Sheriff Court.
On Friday, Sheriff Katherine Mackie handed him the maximum possible sentence of one year, saying he had subjected his victims to "repeated abusive and violent behaviour".
The 71-year-old's lawyer had asked for him to be put on a domestic abuse programme instead of being jailed, but the sheriff said given his "extreme denial" of his behaviour, it was unrealistic to expect Walker to engage with the course.
She told Walker: "Your incredulity at being convicted of these offences and your perceived victimisation are further indications of your abdication of responsibility for your behaviour.
"You have shown what can only be described as contempt for your former wives and your stepdaughter in the derogatory manner in which you refer to them. I formed the opinion that you have no understanding of the impact of domestic abuse on victims or children.
"I have been unable to detect, either during the trial or in the reports, any evidence of remorse for anything or anyone except yourself. I formed the impression that in the few incidents where you acknowledged the use of physical force, you believed you were entitled to or justified in its use, and certainly have made no apology for it.
"Your denial appears to me to be absolute. There is no acknowledgement of any unacceptable behaviour, there is no indication of any motivation to change."
The sheriff said it was clear from their evidence that to Walker's former wives his behaviour remained "vivid and distressing".
She said: "Having regard to the gravity of these offences as a result of the cumulative effect of them, your extreme denial and complete absence of any remorse, and the assessment of risk, I have come to the conclusion that a custodial sentence is the only appropriate disposal.
"In my opinion, the repeated abuse and violent behaviour towards your three former wives and stepdaughter over a period of 28 years outweighs other factors."
Walker's lawyer, solicitor advocate Gordon Martin, said his client's reputation was "in tatters".
Speaking of Walker's career as an MSP, he said: "He had hoped that that particular area of service might have rounded off what he might have considered a distinguished life. All of that is lost."
Walker initially refused to vacate his Holyrood seat despite pressure from campaigners and MSPs, the vast majority of whom signed a motion calling for him to step down.
He stood down 16 days later, blaming a "media onslaught". The by-election to fill his Dunfermline seat will be held on October 24.
Walker, from Alloa in Clackmannanshire, was convicted of 23 charges of assault and one charge of breaching the peace between 1967 and 1995.
Sheriff Katherine Mackie found him guilty of assaulting his first wife Maureen Traquair on three separate occasions in the 1960s and 1980s. On one occasion he punched her in the face, giving her a black eye two weeks before their wedding day in January 1967.
Walker was also convicted of assaulting his second wife, Anne Gruber, 15 times between 1978 and 1984. He also committed a breach of the peace by brandishing an air rifle at her house.
The former politician was convicted of four assaults on his third wife Diana Walker, three of which involved slapping or punching her on the face. The attacks happened between June 1988 and January 1995.
Walker was also found guilty of assaulting and injuring Mrs Gruber's 16-year-old daughter, Anne Louise Paterson, by repeatedly striking her on the head with a saucepan in 1978.
The crimes were committed at addresses in Edinburgh, Stirling, Midlothian and Alloa. Walker denied the charges, claiming he acted in self-defence in relation to three of them.
Giving evidence, he claimed he was the victim of "smearing" and that his ex-wives colluded to accuse him of domestic violence.
But Sheriff Mackie said Walker was not a credible witness and the evidence shows he was "controlling, domineering, demeaning and belittling" towards his former wives. The sheriff said she found the Crown witnesses, particularly Walker's ex-wives, to be credible and reliable.
Walker was elected to Dunfermline as a SNP MSP and was expelled from the party when the allegations surfaced.
On Friday, party leader Alex Salmond said: "The custodial sentence handed down to Bill Walker reflects the extremely serious nature of his crimes, for which he has shown no contrition."