Thousands of independence supporters turn out for march and rally
The march from the High Street to Calton Hill marks the 'one year' to go point on the road to the independence referendum.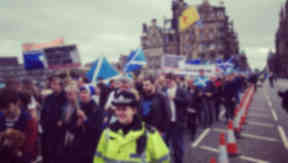 Thousands of people have marched through the streets of Edinburgh in a pro-independence rally ahead of next year's referendum.
The march from the High Street to Calton Hill coincides with the one-year point in the countdown to the vote on September 18 next year.
SNP activists and pro-independence campaigners were joined by representatives of groups including Farming for YES and Football Supporters for Independence as the march set off at noon.
Many of those taking part waved Saltire flags or held banners supporting their cause, turning the Royal Mile and Princes Street into a sea of blue.
Police estimated 8300 people attended the event, but organisers said up to 30,000 appeared to have turned out.
Speaking ahead of the rally, 20-year-old student Calum Martin, from near Glasgow, said: "It's a fantastic event, it brings a lot of people together and just injects energy and colour into a debate which otherwise can run the risk of becoming full of statistics and number crunching.
"It's a fantastic opportunity for people to get to know each other and to show their support. It's a great turnout."
Retired architect Iain Graham, of Stirling, said: "If somebody would give me a thousand votes I would use every single one of them as a 'Yes'.
"Scotland should have the opportunity to make its own decisions for itself and so should future generations."
'People's victory'
First Minister Alex Salmond called on the crowd to work towards a "people's victory".
He said: "A Yes vote next September will not be a victory for the SNP, or the Yes campaign, or even the huge coalition of interests and enthusiasm gathered here today.
"It will be the people's victory. 'Yes' will be act of self-confidence and self-assertion which will mean that decisions about what happens in Scotland are always taken by the people who live and work here - not by a remote Westminster system.
"A Yes vote is for self-government, not remote government - good government with independence, not bad government from Westminster."
Blair Jenkins, chairman of the Yes Scotland campaign, told the crowd: 'We all know that and independent Scotland has got what it takes to be a successful, prosperous and fairer country.
"All we need is the self-confidence to grab this wonderful, once-in-a-lifetime opportunity, to realise our potential as a great nation and to give everybody in Scotland a chance to share in our enormous wealth as part of an inclusive, outward-looking, proud and more socially just country."
Independent MSP Margo MacDonald urged the crowds to "imagine what would happen if Scotland votes No".
She said: "What would people think about the Scots? That we're all mouth and no kilts.
"We would not carry respect, we would not respect ourselves and that will be reflected in the activity of the country.
"Just imagine the No campaign trying to have a party. A No party. Who would go?"
STV's latest opinion poll, conducted by Ipsos Mori, found 59% of those who intended to vote in next year's referendum would vote no, while 31% were in favour of independence.