Judges reject appeal to increase sentence of motorist who killed cyclist
Prosecutors had asked judges to increase the sentence of Gary McCourt who knocked Audrey Fyfe off her bike in Edinburgh in August 2011.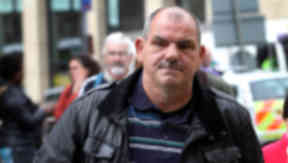 Prosecutors have had their appeal to increase the sentence of a motorist who knocked a pensioner off her bike killing her rejected.
Gary McCourt's careless driving caused the death of Audrey Fyfe when he collided with her on Portobello Road in Edinburgh on August 11, 2011. The 75-year-old, from Joppa, died in hospital from a head injury two days later.
McCourt was sentenced to 300 hours community service and banned from driving for five years by Sheriff James Scott in May after being convicted of driving without undue care and attention.
Sheriff Scott said the pensioner "contributed" to her death by not wearing a safety helmet. He also said he was not able to impose a jail sentence on McCourt because there were no aggravating factors like drink and drug abuse present in the offence.
After his conviction, it was revealed McCourt was jailed for two years in 1986 after being found guilty of causing the death of cyclist George Dalgity by reckless driving. The 22-year-old was cycling along Regent Road in Edinburgh in October 1985 when he was knocked down by McCourt.
Prosecutors appealed McCourt's sentence for causing Ms Fyfe's death, calling it "unduly lenient" and asking for him to be jailed for a minimum of eight months. They also called for the driving ban to be increased.
Audrey Fyfe died two days after being knocked off her bike in August 2011.
On Wednesday, appeal judges Lord Menzies, Lord Glennie and Lady Dorrian denied their appeal and the original sentence stands.
They said too much time had passed between the two convictions for it to be taken into account.
The judgement said: "The court stated that it is perhaps easy to take a superficial view that by his bad driving the respondent has caused the death of two people in two road accidents over 27 years and that this required to be marked with a sentence of imprisonment."
The comment from Sheriff Scott about Ms Fyfe contributing to her death by not wearing a helmet caused particular upset to her family and sparked outrage from cycling charities.
On Wednesday, appeal judges said the sheriff had been wrong to make that conclusion.
They said: "On sentencing, the sheriff remarked that Mrs Fyfe's failure to wear a helmet may have contributed to her death.
"It is clear from the material placed before the court at the appeal hearing that there is a degree of controversy as to the efficacy of cycle helmets in preventing death. The court considered that the sheriff was wrong to regard this as a matter of judicial knowledge."
Despite this, they did not agree the sentence was "unduly lenient" and denied the appeal.
Regarding the driving ban, they said: "This is a disqualification for a significant number of years, and even after those years have expired, the respondent will not be able to drive (if indeed he wishes to do so) until he has passed the extended test of competence."
Following his sentencing in May, the families of Audrey Fyfe and George Dalgity joined forces to campaign for a larger sentence.
On Wednesday, Mrs Fyfe's daughter Aileen Brown said the failure of the appeal left her "lost for words".
She said: "There was a unanimous vote in parliament earlier this month to strengthen the enforcement of road traffic law, to ensure that driving offences - especially those resulting in death or injury - are treated sufficiently seriously by police, prosecutors and judges.
"The police here did an admirable job for us but the Scottish justice system appears to have had complete disregard for government policy.
"Scotland led the way in the smoking ban and minimum pricing on alcohol. The decision to allow Gary McCourt and drivers like him to drive again suggests that the judiciary are frightened to grasp the nettle and make decisions which would make our country a safer place to live."