'Thank you': Jack Draws Anything raises more than £10,000
Jack Henderson, six, who became an internet sensation after taking requests for drawings to raise hospital funds, exceeds his target.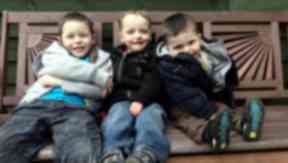 A six-year-old artist who has become an internet sensation with requests for his drawings has raised more than £10,000 for a hospital in just two weeks.
Jack Henderson draws in return for a donation to the Sick Kids Hospital in Edinburgh where his little brother Noah regularly receives treatment.
Requests for his drawings became so popular he had to set a closing date after hundreds of people emailed him asking for a picture. Five packets of pens and crayons later, the young artist has finished 60 of the 600 pictures he has to draw.
In two weeks, Jack managed to raise £10,392 with more donations being made after the deadline.
Jack and his family, from Prestonpans, East Lothian, initially set the target at £100, thinking they would get donations from family and friends but have had to increase it to £10,000.
Jack said: "I have raised more than £10,000 and when I look at my target I'm just really happy. Thank you.
"It's been funny because there are some funny pictures. I'm going to start it again when I have done all the other drawings."
His parents, Rose and Ed, are really proud of Jack and his brothers who have been helping him out.
Rose told STV News: "We didn't expect to do over £10,000 in two weeks, it's just fantastic. It just went nuts after about three days. Jack's a famous person in the playground now, he's been loving it.
"We just want to help put some money towards the Sick Kids to help other parents."
Jack has been busy scribbling away creating colourful pictures of rainbows, cats, crocodiles, and even a rubber duck riding a bike and shooting lasers.
He has had help from the rest of the family including his brother Toby, three, who has been lending a hand with the colouring in and Noah, one, who inspired the project.
Maureen Harrison, Chief Executive of The Sick Kids Friends Foundation, said: "Everyone at the Sick Kids Friends Foundation is so grateful to Jack and all the Henderson family for this wonderful innovative way of helping the Sick Kids Friends Foundation. It's a fundraising masterpiece, devised by a little boy with a big heart supported by his truly remarkable parents and little brothers.
"It has inspired so many people to make donations that will be used to help make the sick kids even better. We can't thank Jack and his family enough for helping the Sick Kids Friends Foundation."
Jack came up with the idea when he was at a craft fair with his parents. A family friend bought a drawing from him for 20p and he asked his parents if he could sell more drawings.
IN DETAIL