Wife beater Bill Walker fails in attempt to be freed pending appeal
The former MSP wanted to be allowed to return home while he appeals his domestic abuse convictions.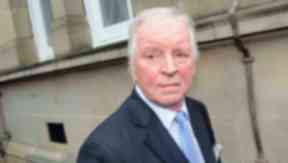 Disgraced former MSP Bill Walker has failed in his attempt to be freed from prison pending his appeal against domestic abuse.
Walker's lawyer, solicitor advocate Cameron Tait, asked judge Lord Armstrong if the 71-year-old could be temporarily freed from his 12-month sentence for 23 charges of assault.
The former politician was not at the High Court in Edinburgh on Wednesday, he remained in prison as the hearing took place. In a short hearing, which was held in private chambers, the judge refused to grant Walker's request.
Walker plans to appeal against his 23 convictions of domestic abuse and one of breach of the peace over a 28-year period.
His trial at Edinburgh Sheriff Court heard how he beat up ex-wives Maureen Traquair, Anne Gruber and Diana Walker, as well as assaulting step daughter Anne Louise Paterson between 1967 and 1995.
Sheriff Kathrine Mackie found him guilty of assaulting his first wife Maureen Traquair on three separate occasions in the 1960s and 1980s. On one occasion he punched her in the face, giving her a black eye two weeks before their wedding day in January 1967.
Walker was also convicted of assaulting his second wife, Anne Gruber, 15 times between 1978 and 1984. He also committed a breach of the peace by brandishing an air rifle at her house.
The former politician was convicted of four assaults on his third wife Diana Walker, three of which involved slapping or punching her on the face. The attacks happened between June 1988 and January 1995.
Walker was also found guilty of assaulting and injuring Mrs Gruber's 16-year-old daughter, Anne Louise Paterson, by repeatedly striking her on the head with a saucepan in 1978.
The sheriff jailed him for the maximum of 12 months last month after he showed no remorse to his victims.
Walker initially refused to vacate his Holyrood seat despite pressure from campaigners and MSPs, the vast majority of whom signed a motion calling for him to step down.
He stood down 16 days after his conviction and before he was sentenced, blaming a "media onslaught". The by-election to fill his Dunfermline seat will be held on October 24.