Alex Salmond and Ed Balls enter the fray in Dunfermline by-election
Local candidates to replace disgraced MSP Bill Walker were joined by party heavyweights.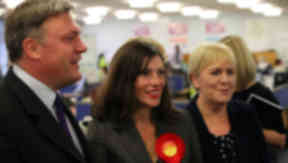 The SNP candidate in the Dunfermline by-election has repeated Alex Salmond's apology to voters for the tenure of the previous SNP member Bill Walker.
Launching her campaign with the First Minister on Friday, Shirley-Anne Sommerville also indicated she was open-minded about backing a Labour Bill at Holyrood outlawing evictions for rent arrears.
She went on to say the SNP reflected the public's priorities with policies on the council tax freeze, free tuition and personal care contrasting with a Labour policy review which "threatens their very existence".
Mr Salmond said: "The choice in Dunfermline is clear. It is between an experienced SNP candidate who will fight Labour's school closures and support policies local people hold dear - the council tax freeze, free personal care, the bus pass for over-60s, toll-free travel across the Forth, no prescription charges and free education for young folk - and a Labour party which is closing local schools and threatens these services through its cuts commission.
"These policies, the people's policies, need to be delivered every year through the Scottish Parliament's Budget process, and Shirley-Anne Somerville is the only candidate who is pledged to support them if elected. Only a vote for Shirley-Anne Somerville and the SNP will support the people's policies in Dunfermline."
Ms Somerville pledged that if she is elected, she will be "a champion for the people of this constituency", and to start by "working with local parents to stop the Labour council's school closure plans".
She said: "I am ambitious for Scotland, which is why I am voting Yes for independence in next year's referendum. And I am ambitious for Dunfermline, which is why I want to be the MSP and the champion for this constituency in the Scottish Parliament."
The poll is being held after Bill Walker, the former SNP MSP who became an independent, resigned the Holyrood seat after being convicted and imprisoned for assaulting his ex-wives.
Labour was also out in force on Friday, with shadow chancellor Ed Balls and Scottish Labour leader Johann Lamont joining candidate Cara Hilton's campaign in the town.
Mr Balls, who could be the next chancellor if Labour wins the 2015 general election, spoke out on the SNP's economic plans in the event of a Yes vote in the 2014 independence referendum.
When asked if he would rule out a currency union with Scotland if he became chancellor, Mr Balls said: "The idea of the pound operating as a parallel currency in Scotland is utterly economically incoherent. It would be massively destabilising. No financial institution could possibly operate without a proper regulator and lender of last resort backing it."
"Scotland is not Kosovo," Mr Balls added, suggesting that Scotland could not unilaterally keep the pound without a political union with England, similar to those countries in the Balkans region which adopted the euro without officially joining the eurozone.
He said he was "taken aback" by Scottish Energy Minister Fergus Ewing's claim that Ed Miliband's pledge to freeze energy prices could lead to massive pre-emptive price increases, blackouts, corporate insolvencies and cuts in jobs and investment.
He said: "The idea that the UK Government is not strong enough to deal with large energy companies trying to use market power - these are regulated utilities in an oligopolistic market structure which has had price regulation for 20 years. Of course, regulation and the price regime is set by the Government in statute.
"Alex Salmond might be saying that he doesn't think, in an independent Scotland, that he will be strong enough to take on the energy companies. In that case, stay in the UK and vote Labour."
The seven candidates who will contest the seat are: Shirley-Anne Somerville , SNP; Cara Hilton, Scottish Labour; Susan Leslie, Scottish Liberal Democrats; James Reekie, Scottish Conservatives; Zara Kitson, Scottish Greens; John Black, Independent and Peter Adams, UKIP.