JK Rowling 'very proud' as MS clinic opens in memory of late mother
The Harry Potter author donated £10m to establish the Anne Rowling Neurology Clinic in Edinburgh.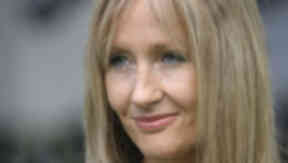 Harry Potter author JK Rowling has said she is "elated" at the opening of a multiple sclerosis research clinic named after her late mother.
The Anne Rowling Regenerative Neurology Clinic at Edinburgh University was established with a £10m donation from the writer and was officially opened on Tuesday by the Princess Royal.
Work at the clinic will focus on finding treatments to slow the progression of multiple sclerosis and other neurological diseases, with the ultimate aim of repairing damage to patients' systems.
The list of currently incurable conditions includes motor neurone disease, Huntington's and Parkinson's disease, as well as autism and early-onset Alzheimer's disease.
Rowling, whose mother died of multiple sclerosis aged 45, said: "I am moved and elated to see the Anne Rowling Clinic formally opened today by HRH The Princess Royal.
"Having observed the plans for the clinic develop and expand to fulfil the needs of patients, clinicians and researchers, I am now very proud to see the building finished and operating as the beating heart of this centre for excellence."
The clinic is housed in the university's Chancellor's Building, next to Edinburgh Royal Infirmary. The Princess Royal, who is Chancellor of the university, toured the facility and met staff and students during her visit.
She told the gathering: "It's always a pleasure to see developments happening because this is a particular area of interest, as far as I'm concerned.
"To be able to come (to the university) every now and again and really see what I consider to be step changes happening in an area which I think, to a degree, has been slightly below the horizon in the past is a huge encouragement.
"It's a huge encouragement for people like us but I hope it's more encouraging to those who are patients now, for whom it is very much part of their work. It's their involvement which is making those step changes possible."
She added: "None of this happens without support and to have the exceptional support that we've had from Jo Rowling is quite astonishing. We've got to make the best use of that and I hope she will make sure that we do that."
Professor Siddharthan Chandran, Professor of Neurology and co-director of the clinic, said: "All patients with these tough diseases need treatments that will slow, stop and ideally reverse damage.
"The Anne Rowling Clinic will pioneer discovery science and innovative clinical research through strong partnerships with the NHS, academia and industry around the world. Only by better understanding the biological processes behind these devastating diseases can we identify new targets for potential therapies and take them into clinical trials."
Professor Charles ffrench-Constant, clinic co-director and director of the university's Medical Research Council Centre for Regenerative Medicine, said: "The clinic's location at the heart of this campus draws on the university's world-class strength in neuroscience, stem cell research and regeneration.
"Because of the Anne Rowling Clinic's unique capacity for bench-to-bedside research, in time we expect to be able to translate laboratory discoveries into real benefits for patients."