Sick Kids Friends Foundation chief executive looks back on 2011
'You don't have to be a doctor to help make a sick kid better', writes Maureen Harrison, of the Sick Kids Friends Foundation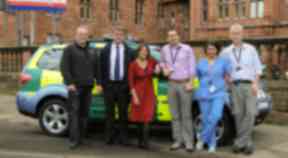 2011 has been a very busy year for us, there has been a huge amount happening. One of the things that is very clear is that during a recession a lot of people in the community think about those who are less fortunate than themselves. People feel: 'if I'm having a bit of a tough time then for children in hospital it must be awful'. People are very conscious of others' suffering.
We are very strongly community based. In the past companies might have been able to make a significant donation, now it's more difficult. But lots of employers get together to do fundraising and make donations - we have terrific support.
The Sick Kids Friends Foundation covers four main areas – we purchase state of the art medical equipment, assist extra research, raise funds for family and child-friendly facilities and provide special comforts for children in hospital. It's things the NHS is not in a position to buy quickly and it's all about making life better for children in hospital.
In the past we have raised money to upgrade keyhole surgery equipment in our operating theatre at a cost of £400,000. It was very expensive, but medical technology moves fast. The new equipment reduces scarring, post-operative pain and time in hospital - it has to be better for the children.
In the spring we, with the help of the Craig Gowans Memorial Trust, also purchased a new vehicle for children with complex needs at our NHS residence respite facility at Calareidh in Edinburgh. We raised £30,000 for that. Other things we bought this year were two very special 3D TV kits. It's used in treatment rooms where children being treated put on goggles and watch a 3D programme which completely distracts them - they say it's fantastic.
Providing these comforts for the children is very important. There's never going to be a situation when a child is in hospital and people aren't distressed about it. But the more we can take that level of stress down the more relaxed everybody is and the more relaxed and easier it is to treat the children. Stress generates more stress and makes it a really difficult time for the family.
We also have a team of volunteers who help out at the hospital. They do things like read bedtime stories, help get children from one part of the hospital to the other and voluntary gardening. There are several volunteers who work at Radio Lollipop too. They all make time in hospital easier for children by providing a little comfort.
We look after parents with children in hospital as well and try to provide as homely an area as possible. We have children coming here from all over Scotland, from Shetland down to the Borders for a lot of very special services like intensive care, spinal surgery, scoliosis and cleft lip and palate services, so we want to give families a place to be comfortable. We provide extra children's beds and parent and child cubicles in addition to the parents unit.
We also have a drop-in centre. It's totally unique; it was created after conversations with staff and thinking about how we could provide a supportive environment. Sometimes it's good for parents and children to get away from the ward and that's what the drop-in centre provides. It's a really safe atmosphere where they can have things like a nice massage or complimentary therapy. One father used the centre when his son, who had meningitis, was in intensive care for some time. He told me: 'the Sick Kids saved my son but the Friends Foundation saved my family'.
Entertaining the children is very important in terms of healing; if they are relaxed, interested and stimulated then recovery will be speeded up - it can have a definite effect on recovery. One of the projects we've recently been doing work on is providing safe internet access throughout the hospital for the children. That will mean that children in the wards will be able to access the KIDSnet system on laptops, even from the beds.
Things like this are particularly relevant at this time of year. For any family having to spend time in hospital at Christmas it is understandably very hard, when they might have other family at home, when they should be together. Spending time at the hospital isn't what they planned. The staff at the hospital are just amazing too, they work really hard to make sure all the children who can safely and comfortably be at home are at home. We have as few children as possible in the hospital over Christmas and New Year so they can be with their families.
Christmas is the same as any time of the year, we can't do any of it without the support if the public, they are wonderful. The message 'you don't have to be a doctor to make sick kids get better' is true.
We're now coming into our 20th year and there will be celebrations later on in 2012. We're planning a project to help children with sight impairment, including a very special camera which helps to diagnose eye problems, and funding towards research for sight problems. In March we'll be spending £30,000 into research into Crohn's disease; that will make such a difference.
The Friends Foundation is all about supplementing what the NHS can provide. As well as providing specialist equipment to put this hospital at the fore front of medicine we are a very caring organisation that work s to support the public and their efforts to raise funds for sick kids and their families in a professional and a very innovative way.
IN DETAIL