Murderer Luke Mitchell has latest appeal over Jodi Jones conviction rejected
The 22-year-old hoped to challenge his conviction following a human rights ruling over police interviews without legal representation.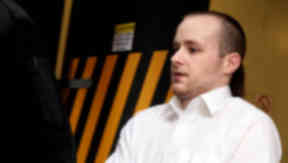 Luke Mitchell has lost his latest appeal against his conviction for murdering his girlfriend Jodi Jones.
The 22-year-old had hoped to challenge his conviction following a human rights ruling by the Supreme Court which outlawed police interviews without legal representation.
He was sentenced to a minimum of 20 years in 2005 after being found guilty of killing the 14-year-old.
On Friday, Lord Osborne told Mitchell that the application to lodge the additional ground of appeal was refused. Mitchell's legal team may now try and take his case to the Supreme Court in London.
He maintains his innocence and previously appealed against his conviction, but it was thrown out in 2008. In February, his appeal against the length of his sentence was also rejected.
Mitchell's senior defence counsel Margaret Scott QC asked appeal judges to allow a new challenge to his conviction. The papers lodged with the court said that the murderer was only 14 and had no legal representation when he was interviewed by police.
They also refer to a previous court ruling which described the behaviour of police as "outrageous". Mitchell claims the interview was used to provide crucial corroboration for the Crown's circumstantial case against him.
Advocate depute Lesley Shand QC, for the Crown, urged judges not to allow any new ground of appeal because it had come too late.
The Lord Justice General, Lord Hamilton, sitting with Lords Osborne and Kingarth rejected the appeal, saying that the issue should have been raised during the 2008 action.
The senior judge said: "Where the note of appeal contains grounds of appeal against both conviction and sentence and the appeal against conviction has been determined, there is no live appeal against conviction."
He said that unless the case is referred to the Scottish Criminal Cases Review Commission or an appeal to the Supreme Court was made, the legal action already taken was "final and conclusive".
Jodi's body was found bound and mutilated on a woodland path near her home in Midlothian in 2003. The path joined her home in the Easthouses area of Dalkeith with Mitchell's home in the Newbattle district.
She had suffered injuries in the attack which were compared to those inflicted in the Black Dahlia murder of Elizabeth Short in 1947, which later featured in paintings by rock star Marilyn Manson. It was claimed cannabis-smoking Mitchell was a fan of Manson's art.
After months of suspicion, Mitchell was charged and on upon his conviction, Lord Nimmo Smith said the photos of the girl's injuries were the worst he had seen.
IN DETAIL