Seven Edinburgh saunas have licence renewed after police raids
The licences were renewed by the council on Wednesday after raids were carried out in June.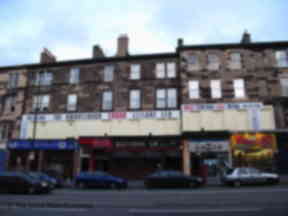 Seven of Edinburgh's saunas have had their licences renewed after police carried out raids across the city.
Police Scotland carried out raids on 13 saunas in Edinburgh in June and 12 people were arrested in connection with brothel keeping and living off immoral earnings.
At the City of Edinburgh Council's Licensing Subcommittee on Wednesday, seven saunas had their licences renewed.
Police had asked for the licences to come with strict conditions but the city council effectively gave the saunas permission to stay in business.
In the face of police objections, each of the applications were granted and it took little more than an hour to agree to the renewal of licences for the first five saunas.
The application for licences for a further seven saunas were then heard in private and two further licences were later granted.
There are conditions, such as there be no alcohol on the premises, but they say that items of a sexual nature can be permitted on the premises — rejecting a principal objection by the police.
Police Scotland had written to the local authority saying the female workers inside the saunas were "scantily clad" and massage rooms were actually used as bedrooms. They asked for a number of conditions to be attached to the licence, including that "no items of a sexual nature will be permitted on the premises".
On Wednesday, Police Scotland denied this condition meant condoms should be banned from the saunas.
Superintendent Matt Richards said: "Police Scotland does not advocate the banning of condoms. As part of the Council's review of the licences for some of the Edinburgh saunas, Police Scotland submitted a number of written recommendations for their consideration.
"These focus on ensuring the safety and wellbeing of the users and staff at the premises. At no point do the recommendations make reference to the banning of condoms. Police Scotland absolutely supports proper measures to protect sexual health.
"The issue of prostitution is a complex one and we work with the City of Edinburgh Council and local health services to ensure the safety of those involved in the sex trade.
"The recommendations submitted by Police Scotland are to assist the Committee to consider how they might ensure that the premises are operated safely and are a direct result of licensing contraventions detected during recent inspections of the saunas. It is a matter for the Council's Regulatory Committee to decide which conditions are applied on a case-by-case basis."
Edinburgh City Council says the decisions made on Wednesday will not necessarily inform future policy.