Sellers return to 'offers over' as house prices in east rise
ESPC revealed its latest market figures on Thursday, saying the number of houses sold rose by 42%.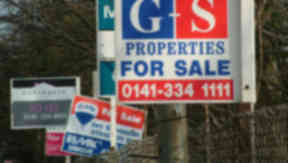 The number of houses sold in the east of Scotland has risen by 42.5% over the last year.
ESPC revealed its latest market figures on Thursday, detailing the number of homes sold in the three months to October.
The number of homes being put on the market also increased during that period by 14.9%.
The estate agents group said the number of homes being advertised as offers over has gone up, with 44% of those on the market over the last three months being marketed like this.
At the same time last year, 33% of properties were offers over with many sellers going for fixed price instead.
Before the credit crunch, homes were sold for an average of 25-30% over the offers over price. At the moment, properties are going for 4-5% over the asking price.
The average house price in Edinburgh has increased from £204,698 to £208,886 in the last year and those in East Lothian have gone from £196,157 to £207,201.
ESPC said despite the increase in homes being sold, it is still a buyers' market. In Edinburgh, 58% of homes were sold for less than the Home Report valuation. In the rest of the Lothians this figure was 71% and in Fife it was 73%.
David Marshall, from ESPC, said: "There's been a lot of discussion recently about the upturn in the housing market and while it's certainly true that conditions are more favourable for sellers than has been the case for some time, it's important to keep things in perspective.
"The number of homes selling has risen significantly but this improvement comes from a low base and sales are still about 25-30% below peak levels. As a result, while prices are higher than they were a year ago in some areas, the rate of growth is typically below CPI inflation at around 2%.
"Where larger increases have been observed these generally serve to offset falls witnessed at this stage a year ago. For example, in East Lothian the average house price has risen by 5.6% annually but this came on the back of a 4.5% decline last year.
"For sellers coming to the market today the best advice is to be realistic when setting the asking price. The likelihood of a property achieving its valuation drops substantially the longer it spends on the market so you don't want to risk deterring potential buyers early on with a price that is too high."