High risk heart attack patients could be identified with cancer scan
Edinburgh University research on the technique was published on Monday.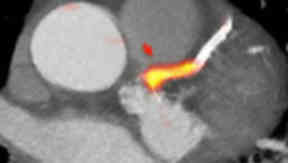 A scan pioneered by Scots scientists could identify patients at high risk of a heart attack.
The new test, developed by Edinburgh University, uses a PET-CT scanner and has been trialled by researchers at the institution.
In research published in The Lancet on Monday, the scientists outline how fat that builds up in arteries and threatens to rupture the, are lit up in a scan.
The scanners are currently used in hospitals for cancer diagnosis, so the scientists believe they could aid in predicting high risk heart attack patients.
Dr Nik Joshi, from the university, said: "We have shown, for the first time, high risk fatty plaques - on the verge of potentially causing a heart attack - can be detected on a PET-CT scan in the arteries supplying the heart with blood.
"If we are now able to identify patients at highest risk of having a heart attack, we could possibly take steps to prevent this catastrophic event. This could fundamentally change the way we approach and manage these patients, reducing their risk of a future heart attack."
The study, funded by the British Heart Foundation and Chief Scientist Office, looked at two groups of patients - 40 people who had just had a heart attack and 40 people with angina and at risk of a heart attack.
Around 90% of the heart attack patients had a lit-up area in one of their blood vessels, corresponding exactly to the location of the plaque that caused their heart attack.
The researchers found about 40% of patients with angina also had a plaque that lit up yellow, as well as high-risk features suggesting a heart attack may be imminent, and aggressive treatment would be required.
Professor Peter Weissberg, medical director at the British Heart Foundation, said: "Being able to identify dangerous fatty plaques likely to cause a heart attack is something that conventional heart tests can't do. This research suggests that PET-CT scanning may provide an answer - identifying 'ticking time bomb' patients at risk of a heart attack.
"Nearly 20 years of BHF-funded research has led us to this point. We now need to confirm these findings, and then understand how best to use new tests like this in the clinic to benefit heart patients."
Professor Andrew Morris, chief scientist for health in Scotland, added: "Heart disease has been a clinical priority for NHS Scotland for over 15 years and data show that deaths from this condition are falling, however there is still room to improve the diagnosis and treatment.
"These are exciting data - being able to prospectively identify patients at the highest risk of a heart attack and provide treatment to prevent this would be a significant step forward in the clinical management of this group. It is important therefore that these findings are further tested to determine their best clinical use."