Council set to scrap need for Edinburgh's saunas to apply for licence
The local authority said the current policy is 'no longer proving to be effective' after a crack-down by Police Scotland.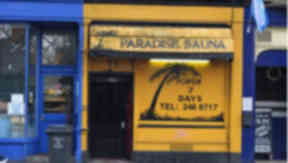 The council are considering scrapping the need for Edinburgh's saunas to apply for a licence, saying the current policy is "no longer proving to be effective".
It comes after a crack-down on the venues by Police Scotland, who raided 13 saunas in June. Twelve people were arrested in connection with brothel keeping and living off immoral earnings after the searches.
At a meeting of the City of Edinburgh Council's Licensing Subcommittee in October, all the city's saunas licences were up for renewal.
Police asked for strict conditions to be applied, including a ban on items of a sexual nature on the premises. This condition was not applied by councillors who renewed licences for seven saunas.
Now the local authority is proposing to remove massage parlours and saunas from the Public Entertainment Resolution.
It means all the venues could keep operating and only be subjected to the usual public health and trading standards regulations which every business has to abide to.
A report going before the regulatory committee asks councillors to consider starting a consultation on the change of rules.
It reads: "The Council has historically required a license for these premises as a risk reduction approach to minimise harm. Recent police reports have indicated that this approach is no longer proving to be effective.
"The current policy is operating in a contentious climate which has arisen due to multiple legal challenges to both the granting and refusal of a number of licences. If the current policy were to continue then further legal challenges are likely. This situation carries reputational and financial risk for the Council and does not contribute to risk reduction within these premises.
"It is therefore proposed that the Public Entertainment Resolution be revised to remove massage parlours and sauna premises. The impact of this proposal would be that premises would continue to operate and would be subject to general enforcement activity through Trading Standard and Public Health powers, any criminal or illegal activity would be a matter for Police Scotland to address."
Sex workers' charity Scot-Pep have criticised the move, saying it has been forced on the council by Police Scotland's crack-down. They are concerned about the implications for the safety of sex workers in the city.
A spokesman for the group said: "The system that has operated over several decades in Edinburgh has become a toxic issue for Edinburgh councillors, predominantly due to the actions of Police Scotland in recent months which saw several premises raided in June, in a manner which led women to describe their experiences as 'violating' and 'humiliating'.
"The council proposals will mean these establishments fall under the enforcement responsibilities of Trading Standards and Public Health. It remains to be seen how the Council's stated intention to work with partner agencies to ensure the health, safety and good working conditions of the people working in the saunas will happen in practice."
Police Scotland said they were aware of the proposed changes and would continue to monitor licenced venues.
Superintendent Matt Richards said: "We are aware of the City of Edinburgh's proposal, which is intended to go out for consultation.
"The responsibility for licensing certain businesses in Edinburgh is a matter for the council. Police Scotland will continue to inspect all premises granted a licence, and as always we will work actively with our health service, local authority and third sector partners to maximise public safety and harm reduction.
"Any criminal activity detected within these venues will be reported to the appropriate authority."
A spokeswoman for the council said the change in policy will be considered by councillors on Friday.
She said: "The Regulatory Committee will meet on Friday, 15 November to consider holding a consultation on amending the Public Entertainment Resolution. The amendment proposed is to remove the requirement for saunas and massage parlours to be licensed and would invite responses from the public and any interested organisations."