Iconic Edinburgh structure to be removed as it poses risk to public
Jawbone Arch in Edinburgh's Meadows will have to be taken away and restored as it is decaying.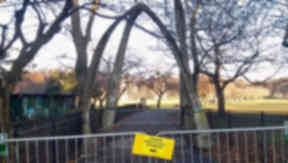 The iconic Jawbone Arch in Edinburgh's Meadows is to be taken down after it was branded a health and safety risk.
On Friday, the council closed part of Jawbone Walk, the main path between Marchmont and the city centre across the Meadows, as the structure poses a risk to park users.
The move came after a survey of the decaying archway found its condition has recently deteriorated.
Specialists will be brought in to remove the jawbone and take it to an indoor area to be dried out and an examination carried out.
Restoration work will then take place before it can be returned to the Meadows. It is not known how long this will take, but it is understood to be a "significant amount of time".
The structure consists of four whale jawbones placed vertically and meeting at the top.
They were exhibited at the Edinburgh Exhibition in 1886 where the Orkney and Fair Isle Knitters' Stall was made of jaw bones. The structure was then erected at the entrance to the Meadows in 1887 after being gifted to the city.
Edinburgh World Heritage said it was important to make sure the unique sculpture is conserved for the future.
A spokesman said: "Although there are a few jawbone arches around the world, Edinburgh's is unique. The others were erected by whaling communities, whereas Edinburgh's example was gifted by Shetland knitters. The jawbone arch is now a well-loved local landmark, but it is in need of specialist repair.
"In terms of work, the first stage will be to dry it out in storage, and then a proper examination can be carried out. Until that's done its difficult to say precisely what might be needed, but the bone will need to consolidated or perhaps coated, and it may need new footings."
The City of Edinburgh Council said they would be removing the arch soon but it was not known what work will be needed to restore them.
A spokesperson for the Council said: "Following a report from a conservation specialist commissioned by the council to review the condition of the Jawbone Arch, it was decided that the arch should be removed so it could be examined in greater detail.
"We are currently in the process of organising a careful removal of the arch and once we have carried out a thorough inspection of its condition, we will explore the best way this important structure can be conserved and reinstated."