Wheelchair user sets up website to review disabled access at venues
Euan's Guide aims to give disabled people and their families more choice of places to visit.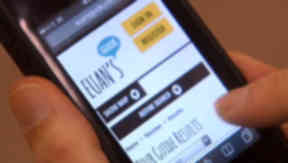 A wheelchair user has founded a website offering disabled access reviews of pubs, restaurants and visitor attractions.
Euan MacDonald was diagnosed with motor neurone disease ten years ago and has been in a wheelchair for the past four.
He found planning visits to pubs, tourist attractions and hotels became much more difficult as he did not know what their disabled access was like.
Along with his sister, Kiki, Ms MacDonald set up Euan's Guide, a website which allows users to post reviews of venues and their facilities.
Mr MacDonald said: "Lots of disabled people have favourite places to go out but that information often doesn't get shared and everyone has to reinvent the wheel. The hopes is to provide a platform to share that information and to help people get out.
"We hope now as many people as possible will write reviews and share their experiences."
Ms MacDonald said: "We have definitely found that we can't just rely on a disabled badge sticker to find out if you can go.
"We have had a lot of positive experiences but we have had experiences where they say they have got disabled access on their website and you get there and you're faced with a flight or stairs or something like that."
Around 11 million people in the UK have some kind of disability and it is hoped the reviews will encourage venues to improve their accessibility.
The Royal Yacht Britannia, which has been reviewed on the website, has recently introduced a sign language tour of the ship that visitors can carry around a tablet computer.