The new station arriving at Haymarket is on time and on budget
Transport Minister Keith Brown officially opens main building after £25m redevelopment.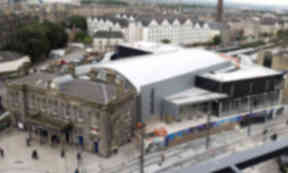 Haymarket station's new main building and concourse have been officially opened by Transport Minister Keith Brown on Thursday as the £25m redevelopment of the facility nears completion.
The new-look station is said to be one of the most modern and easily accessible on Britain's rail network.
The building provides a public space ten times larger than before and has "enhanced retail facilities for passengers".
The new main entrance also provides direct access to the tram line along Haymarket Terrace.
The steel and glass building, delivered on time and to budget by Network Rail, also links to all platforms via a new, wider footbridge with lifts and escalators creating step-free access throughout.
Transport Minister Keith Brown said: "The exciting £25m redevelopment of Haymarket Station marks a hugely important milestone in the Edinburgh-Glasgow Improvement Programme and I am delighted to be able to unveil the station's stunning new look to the public.
"The scheme is making excellent progress and is well on the way to helping provide a more comfortable and efficient railway benefitting not just our two biggest cities, but the whole of Scotland."
Alex Sharkey, Network Rail area director for Scotland East, added: "Haymarket station is already one of the busiest in Scotland and passenger numbers are set to continue to grow in the years ahead. This new building will ensure the railway is able to provide first-class facilities for those passengers and the new, modern station will also complement the wider redevelopment of the city's west end."
With the new building and footbridge open to the public, the project to fully refurbish the station will be completed by spring 2014 with the renovation of the original building and the removal of the now redundant footbridge attached to it.