Chocolate research discovers sweet treats can boost your health
Experts at Queen Margaret University say certain premium chocolate can offer health benefits.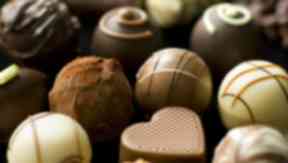 In the coming days many of us will be tearing into selection boxes and possibly piling on the pounds as a consequence but new research says eating chocolate could actually be good for you.
Nutrition experts at Queen Margaret University (QMU) found that high levels of polyphenols in certain premium chocolate, if eaten in moderation as part of a balanced diet, can offer significant health benefits.
Previous research carried out by QMU has indicated that consumption of small amounts of chocolate containing high polyphenol levels can lower the risk factors for heart disease. 
Dr Mary Warnock, Senior Lecturer in Dietetics, Nutrition, and Biological Sciences at QMU, explained: "Polyphenols actively work in the body to prevent certain disease mechanisms occurring. Polyphenols are antioxidants from plant foods and it is generally believed that they may reduce the risk factors of cardiovascular disease and can help protect the body from chronic disease."
Recent QMU research, which focused on premium chocolate produced by The Chocolate Tree based in Haddington and Edinburgh, found that the company's bean-to-bar range contains polyphenols which offer health benefits within the diet.
Dr Warnock said: "The study recognised that the great care taken by The Chocolate Tree to apply minimal processing methods in the creation of its high-end chocolate ensured the preservation of naturally occurring attributes within its final product."
The result is said to be an exceptional range of quality products containing naturally occurring polyphenols with antioxidant activity.
Alastair Gower, owner of the Chocolate Tree said, "We always knew that we created a high-quality product, but we needed to prove it. Queen Margaret University was able to provide scientific evidence of the antioxidant profile and mineral content of our organic certified 'bean-to-bar' range and provide professional guidance on the health and nutritional aspects of our products. This is helping us develop accurate information for labelling and marketing purposes."