On this day in Edinburgh's history: 1972 Actor Ewen Bremner is born
Ewen Bremner originally wanted to work as a circus clown.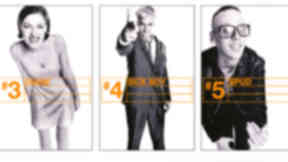 Actor Ewen Bremner, best known for his turn as the equally pathetic and sympathetic Spud in Dany Boyle's film adaptation of Irvine Welsh' Trainspotting, was born on this day in Edinburgh in 1972.
Having made his mark with his excrement-flinging moment in Trainspotting in 1996, Ewen has gone on to star in a few Hollywood blockbusters such as Pearl Harbour, Black Hawk Down and Around the World in 80 Days.
Ewen was born in the capital, the son of two art teachers. His original plan in life was to be a circus clown, but got his break in show business from television director Richard D. Brooks.
He was spotted at 17 when a theatre workshop play he appeared in transferred to the Royal Court in London.
One of his first notable roles was the portrayal of a dim-witted Glasgow schoolboy in Charles Gormley's Heavenly Pursuits in 1985.
He also played the part of Renton in the original theatre production of Trainspotting.
Ewen has since starred in Guy Ritchie's Snatch as Mullet, a street thug, as well as several American TV shows, such as Spooks and My Name is Earl.
The actor also enjoys playing guitar in his free time.