Cowdenbeath by-election: Candidate tweets, Council Tax and communism
STV's Political Correspondent Claire Stewart takes a sideways look at the Fife contest.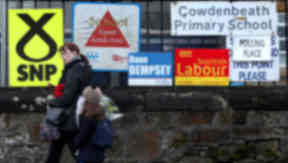 The Cowdenbeath by-election may have failed to capture national attention but the contest was far from uneventful.
There were all the usual rows, missteps and minor candidates vying to draw the spotlight away from the main parties.
The SNP used the vote to pile pressure on Scottish Labour's Alex Rowley over the party's position on the Council Tax freeze.
Labour, meanwhile, turned its guns on Nationalist candidate Natalie McGarry and her past tweets about teachers.
The Conservative candidate Dave Dempsey campaigned on regenerating Cowdenbeath high street, while the Liberal Democrats' Jade Holden argued for better childcare and tax cuts for low-income families.
The main parties were joined by UKIP's Denise Baykal, the Scottish Democratic Alliance's James Trolland and Stuart Graham, from the Victims' Final Right single-issue party.
The political jousting took place against the backdrop of Fife's social and political history. The region suffered heavily during deindustrialisation and is the only place in Scotland still to have a Communist councillor, 77-year-old Willie Clarke.
The Communist Party, in its manifold strands and factions, did not field a candidate in the by-election. But the area's radical past continues to colour the current political landscape and give Cowdenbeath and Fife a distinctive voice in Scottish politics.