Swordsmith seeks apprentice to pass on tricks of ancient trade
Paul MacDonald is one of a handful of Scottish swordsmiths and he wants to pass his knowledge on.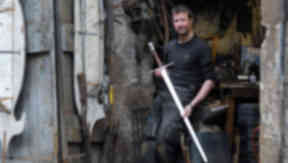 A swordsmith is looking for an apprentice to train up in his ancient art.
Edinburgh sword maker Paul MacDonald advertised the position a week ago, but 600 people from 24 different countries have applied.
He is one of just a handful of people left working in Scotland and wants to hand his knowledge on to the next generation.
His main business comes from people still using the swords for martial arts, such as fencing.
But he also sells to collectors and and film producers.
Paul has crafted copies of swords from the Highlander movie, The Princess Bride and He Man.
Some of the smaller knives can take just a few weeks to make, but more ornate ones can take up to six months.
All the swords are made from scratch and new apprentices will learn to use a whole host of materials and try out different techniques.