Dentists spearhead new campaign to raise awareness of mouth cancer
Dentists will take to streets of Edinburgh and use social media to highlight symptoms of disease.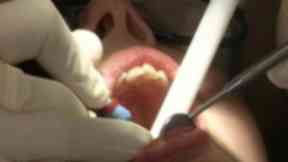 A new drive to boost public awareness of mouth cancer could help save lives, charity campaigners have said.
Dentists are to take to the streets of Edinburgh and use social media to highlight some of the symptoms of the disease.
Their "Let's Talk About Mouth Cancer" campaign aims to increase awareness of the disease, which dentists from Edinburgh University's Dental Institute said affects more people in the UK each year than cervical cancer and testicular cancer combined.
The Ben Walton Trust, set up in memory of a student who died from the disease, said there were 7698 new cases of mouth cancer diagnosed in the UK in 2011.
Michael Walton, who founded the charity after his son Ben died, said: "The trust is really pleased to be associated with this campaign.
"A problem with this disease is poor public and professional knowledge which leads to delay in referral to specialist treatment. This campaign proactively addresses these issues and could save lives."
The "Let's Talk About Mouth Cancer" campaign has been set up by NHS Lothian and Edinburgh University, and runs from today until Thursday, February 13.
As part of the initiative clinicians from the institute will be offering free mouth screening checks to members of the public in the city's Bristo Square on Wednesday.
Professor Victor Lopes, consultant oral and maxillofacial surgeon with NHS Lothian, said: "Early detection and timely treatment of mouth cancer is vital. and can lead to a significantly improved survival rate.
"It cannot be stressed enough - the earlier a cancer is detected, the better the treatment options and outcome."
Factors which can put people at risk of developing mouth cancer include regularly drinking a large amount of alcohol, smoking, poor diet, poor oral hygiene and the human papilloma virus (HPV) infection.
People who both smoke and regularly drink large amounts of alcohol increase their risk of developing the disease by 40 times.
Signs of mouth cancer include lumps in the mouth that grow, oral ulcers which do not heal after two weeks, persistent soreness in the mouth, bleeding in the mouth, red, white or mixed patches in the mouth and lumps on the neck.
Niall McGoldrick, a trainee at the Edinburgh Dental Institute, said: "This campaign will bring an extremely important message to the streets of Edinburgh and to a wider population via our social media campaign."
He added one of the key messages of the campaign was "if in doubt, check it out" and stressed: "We would encourage people to be vigilant and screen their own mouths for the signs of mouth cancer."