D'oh! Raw dough dumped by pizza restaurant bursts out recycling bin
Papa John's fined after unwanted pizza base mixture burst out of bin on Leith Walk in Edinburgh.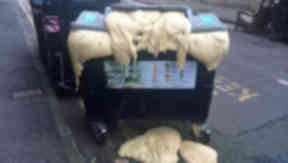 A pizza restaurant created a monster when they decided to dump their unwanted dough in a recycling bin.
The raw dough was left spilling over the corners of the food waste bin outside Papa John's on Leith Walk in Edinburgh.
Some had fallen out on to the road and it looked as though the expanding dough had pushed the lid up as it tried to burst free.
The bin was snapped by Ailsa Burn-Murdoch was spotted it as she walked to work on Tuesday and the photograph went viral on social networking site Twitter.
Tweeting the picture to Papa John's, Ms Burn-Murdoch said: "Thanks for livening up my walk to work. I have a feeling Papa John's owe a local sanitation worker free pizza for a year."
In response, the pizza chain said they are looking into what happened at the store.
They said: "We're currently investigating this further directly with the store."
The City of Edinburgh Council sent a team to clean up the dough. A £50 fixed penalty was issued to the franchise owner and the bin was removed and replaced by waste services.
Environment Convener Lesley Hinds said: "Businesses have a duty to deal with their own waste disposal and this misuse of a food waste bin has meant that the public in this area have been unable to recycle their food waste.
"While this may be an isolated mistake, the abuse of domestic bins by businesses restricts available capacity for the public and increases the cost of disposal. This demonstrates the importance of proper trade waste management. A fine has been issued to the franchise owner."
The food waste bins are places on streets around the capital to allow residents to recycle their food waste. Only for domestic use, food is supposed to be wrapped in newspaper or bags before it is places in the bins.
@PapaJohnsUK thanks for livening up my walk to work #EdinburghLeithWalk #doughmonster pic.twitter.com/0O7Eri0L05

— Ailsa Burn-Murdoch (@ailsabm) February 11, 2014
@ailsabm Hi Alisa, thanks for letting us know about this. We're currently investigating this further directly with the store.

— Papa John's UK (@PapaJohnsUK) February 11, 2014