Jack Draws Anything nominated for international award
Jack Henderson, the six-year-old who raised more than £23,000 for charity, has been shortlisted for a .net magazine award.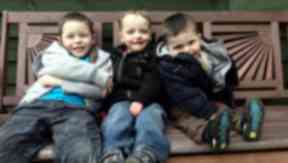 A six-year-old artist who raised money for charity by drawing pictures in return for donations has been nominated for an international internet award.
Jack Henderson set up Jack Draws Anything to raise a modest £100 for the Sick Kids' Hospital in Edinburgh where his little brother Noah, two, regularly receives treatment.
Within two weeks he had to stop picture requests after 500 people asked Jack, from Prestonpans, East Lothian, to draw for them. The budding artist has now raised over £23,000 for the charity since April.
Now Jack has been shortlisted for Social Media Campaign of the Year by .net magazine. Other campaigns on the list are the It Gets Better Project, set up to tackle the rise in bullying and suicides among young members of the LGBT community, The Muppets and Barbie and Ken.
Although the young boy has racked up more than 200,000 hits on his website, been shortlisted for a Scottish Charity Award and secured a book deal, this latest nomination has come as a surprise for the family.
Jack's father, Ed Henderson, said: "It is absolutely unbelievable that our wee idea to set up a website to raise £100 has gone this far. To be shortlisted alongside such global and successful campaigns is mind-blowing.
"The other shortlistees are global superstars and worldwide companies with colossal budgets. To think that from our kitchen in East Lothian, our campaign and son are regarded alongside that is absolutely unbelievable."
For Jack, the excitement comes from his competition. He said: "I can't believe it. I love the Muppets and Batman and Ken and Barbie are really famous from Toy Story. It's so cool."
IN DETAIL